BridgeClimb Unlocked
SAVE up to 35% on selected Day Climbs every Friday, Saturday and Sunday. Get outdoors, have fun and rediscover Sydney whilst scaling the iconic Harbour Bridge from only $198! Plus 'Book with confidence' with our flexible booking options.

special offer - up to 35% off
Now's the time to holiday at home! Get outdoors, have fun and rediscover Sydney whilst scaling the iconic Harbour Bridge from only $198!
SAVE UP TO 35%* OFF DAY CLIMBS EVERY FRIDAY, SATURDAY AND SUNDAY.

*$198 Unlocked Climbs run from 11am-1pm. Other select Day Climbs are available for $248.
Plus BOOK WITH CONFIDENCE with our flexible booking options.
Get unlimited date or time changes, up to 14 days prior to your original climb booking, for a period of three years. See our terms and conditions for full details.
So grab your partner, kids, or iso buddy, and uncover the beauty, history and views that your amazing City has to offer - a sight you will never forget!
For some, a BridgeClimb is that bucket-list item you've always wanted to do. You'll get around to it one day? Well, if these times have taught us anything it's that there really is no better time to tick off one of Sydney's greatest experiences, whilst getting outdoors, reconnecting with loved ones and creating lasting memories.

Climb Leaders have begun their stretches, and are eagerly swotting up on their already impressive history of both the Bridge, and our beautiful City. Keen to step foot on the old gal once again, take in those showstopping views and share her beauty to each and every climber.

Climbs are available to book online with limited spaces available.

PROMOTIONAL PRICES
Adults = $198 - $248 (save up to 35%)
Children = $99 - $126* (save up to 50%)

CLIMB DETAILS
Available on the Summit & Summit Express Climb routes: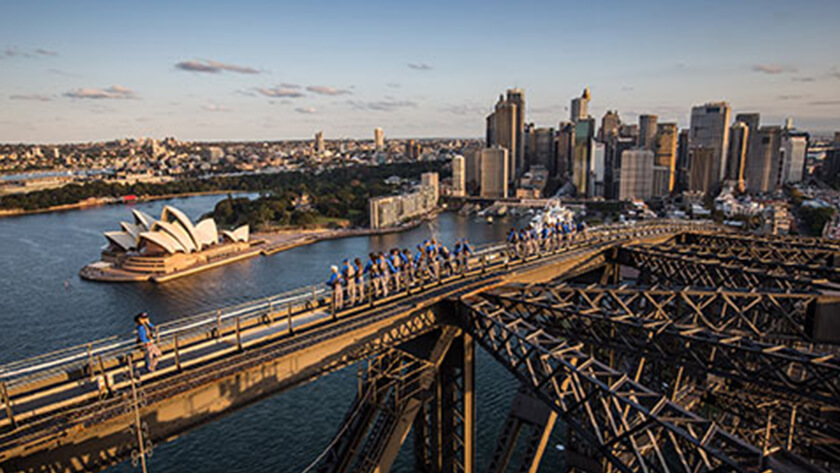 Summit (3 hours) – take in the unmissable views of Sydney as you ascend the upper arch of the Bridge on our original Climb experience. Your journey will take you along the very top of the iconic landmark, 134 metres above the harbour. This Climb suits everyone including families with kids who are confident scaling ladders along the route to reach the top.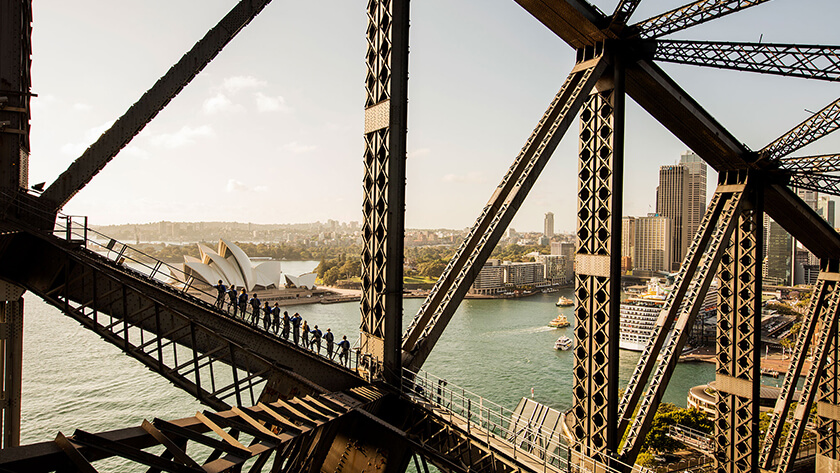 Summit Express (2.5 hours) – You will feel like you are inside the iconic Harbour Bridge, as you climb the stairs of the lower arch surrounded by beams of steel and the hustle and bustle of the traffic below. With fewer stops along the Summit Express route and no ladders, you will reach the top in no-time for a Summit celebration and a moment to take in the 360° panorama of Sydney.
Fridays, Saturdays and Sundays, excluding peak period (25 Dec - 3 Jan)
Socially distant Climb groups
Still not sure which Climb is best for your family? No worries! Read frequently asked questions about our BridgeClimb Unlocked special offer below or talk to our friendly team on 1300 90 80 57.

A great family experience! Fun and interesting in equal measure, and something we'll always remember as a special day
Standing on the very top of the Bridge was amazing – an incredible view of Sydney and the Harbour!