Five reasons why Santa loves climbing the Sydney Harbour Bridge
1. Santa is used to a spectacular view from above
Santa travels by sleigh and is used to spectacular views from above. The top of the Sydney Harbour Bridge offers 360 degrees of unforgettable, with a vista stretching as far as the eye can see from the famous Bondi Beach coast line in the east to the majestic Blue Mountains in the west.
2. He's not afraid of heights
Accustomed to entering homes via chimney, a summit celebration at 134 metres above the sparkling Sydney Harbour was always going to delight Santa. For boys and girls less confident with heights, BridgeClimb prides itself on helping Climbers face their fear and also offers BridgeClimb Sampler; a journey to a unique vantage point half way to the top for a taste of a BridgeClimb experience.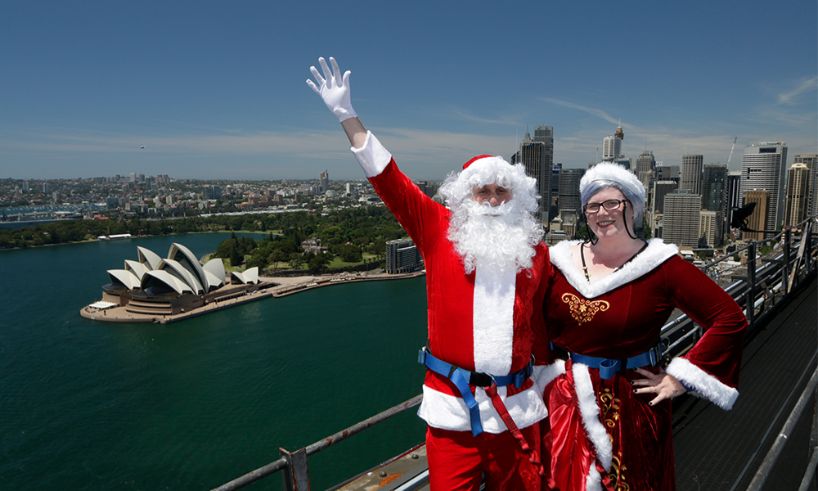 3. Santa loves a snazzy uniform, comfortable walking shoes and a good hat
Santa knows how to rock this look! As well as the famous blue and grey Climb suit, BridgeClimb provides all the accessories Santa could ever need. All he needs to remember is some good walking shoes and his sunglasses!
4. Santa loves to share a magical moment with Mrs Claus
Though Santa's a busy man, he always tries to make time for the lovely Mrs Clause. They have shared some magical moments over the years, but a kiss at the top of the Sydney Harbour Bridge added extra rouge to those jolly cheeks and built a memory they will both always cherish.
5. Even Santa has a Bucket List
Santa is a well-travelled man. He's been all over the globe and has seen many wonders. A Climb to the top of the iconic Bridge and an optical illusion photo of him picking up the Opera House saw him strike off another tick on his enviable Bucket List.

For more information on BridgeClimb Gift Certificates, go here. Merry Christmas everyone!