See the 5 Ship Spectacular as we saw it
Here's something Sydney, and all those that frequent its sparkling harbour, has never seen before.

Soon after the sun peeped its head up from behind the horizon, Sydney was bathed in the pink and purple hues of a picture-perfect dawn. It was the type of sunrise it'd be worth setting your alarm for.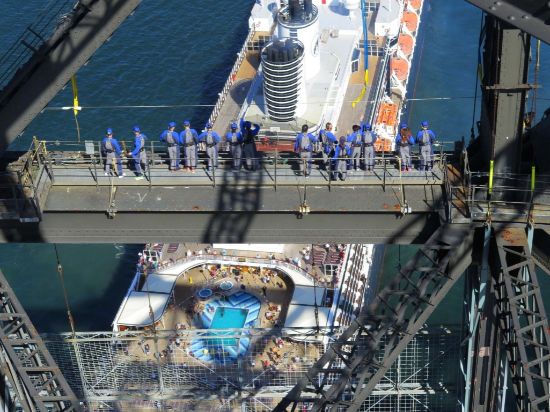 As helicopters flew overhead, boats darted from their path, and Sydneysiders gathered along the shoreline, P&O Cruises sailed its entire fleet of five cruise ships (chockers with happy Cruisers) through the majestic Heads of Sydney and into the heart of the sparkling blue waters of the city – Sydney Harbour.

Midway through the festivities, Pacific Jewel, Pacific Pearl, and Pacific Dawn created a formation to welcome new ships Pacific Aria and Pacific Eden to the Harbour for the first time. Following their official christening, colourful smoky fireworks erupted and cheers rang out to celebrate the historic occasion.

We, and our adventurous cruise-loving Climbers, rose early to scale to the summit of the Sydney Harbour Bridge to get a bird's eye view of the spectacle. With blue skies overhead and luminous waters below, this morning is one that will certainly be remembered warmly (it was 30C after all) in the minds and hearts of The Emerald City.

If you're interesting in finding about new and exciting events that you can view from the arches of the Harbour Bridge with us; be sure to sign up to our e-newsletter, or join us on Facebook, Twitter or Instagram.