The Top Vivid Sydney Light Installations you can't miss
Vivid Sydney is in full swing, and with less than 2 weeks to go until it wraps up for another year, it's time to tick all the must-see installations from your list. Luckily for you, we've put our favourites together so you know what not to miss:
1. Lighting of the Sails: Metamathemagical
For the 10th Anniversary of Vivid Sydney, the Opera House Sails have been transformed into a series of kinetic digital sculptures, featuring recognisable Australian motifs across science, nature and culture. You can see Jonathan Zawada's it from all over the harbour but, in our opinion, you won't get a better view than from the summit of the Bridge!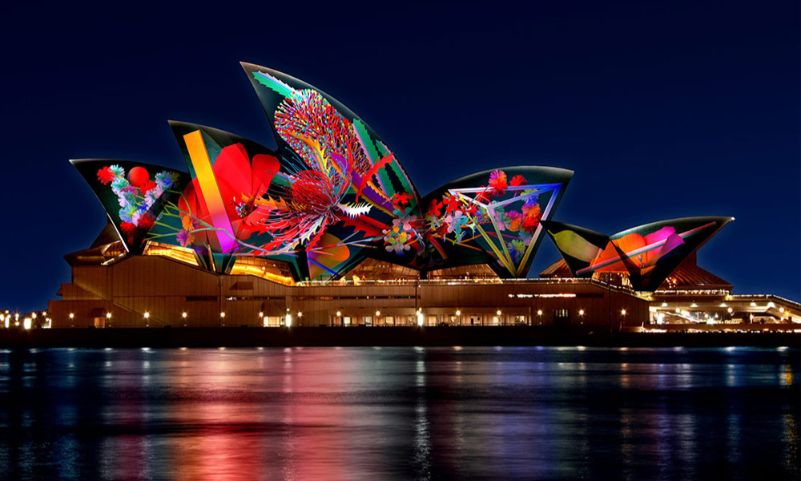 2. Snugglepot and Cuddlepie at Customs House
We're very excited about the return of Customs House to the Vivid line-up. Exactly 100 years ago, Author May Gibbs gave life to Snugglepot and Cuddlepie and this year, the iconic Custom's House façade will feature the adventures of the intrepid Gumnut Babies. Join them on their journey through the Australian Bush as they encounter the weird and the wonderful!
3. Skylark
This innovative sky-high light show is hard to miss! For two minutes every half hour, dazzling interactive light beams illuminate the night sky from the top of the Sydney Harbour Bridge and Circular Quay. The Bradfield Beacon, a custom-built laser, crowns the Bridge for the first time this year. It fulfils the vision of the Bridge's main engineer, Dr John Bradfield, who envisaged national celebrations being marked by a beacon-lighting ceremony. Get up close and personal with this incredible light show on our Vivid Climb.
4. Revive the Reef at The Rocks
We love an interactive display, especially when it has such an important message behind it. Revive the Reef takes you to a magical underwater landscape as you work with friends and strangers to uncover the pressures threatening the Reef. It is a stunning celebration of the sounds and colours of the Great Barrier Reef which highlights the small changes we can all make to revive it.
5. EORA – Dark Emu
Australia's leading Indigenous dance company Bangarra has taken over the Harbour Bridge's southern pylon for a fifth year with a large scale projection that marries aboriginal history, dance, art and architecture. Bangarra's projection explores how Aboriginal and Torres Strait Islander people interacted with the land long before colonisation.

There's many vantage points to enjoy Vivid Sydney, but none quite as spectacular as the Sydney Harbour Bridge. If you want to be part of the installation, wearing a flashing yellow vest as you ascend the arches to dance on a 70s style dancefloor at the summit, check our Vivid Climb. Available every night until the 17th of June.