Sydneysiders Cashback
Sydney locals exclusive offer. Climb and claim up to $80 cashback!

Climbing the Sydney Harbour Bridge is something every Sydneysider should lay claim to. For some, a BridgeClimb is that experience you've always wanted to do. It's on the list and you'll get around to it one day. Well, that day has come!
We'd like to say a big "cashback" thank you for standing by us during what has been a rollercoaster of a couple of years by offering you the opportunity to Climb and get up to $80 cashback!*
are you eligible?
To be eligible for our Sydneysiders Cashback reward, you must:

ELIGIBLE CLIMBS & Cashback
Our Sydneysiders Cashback reward means select Adult Day Climbs are reduced to $248 with your cashback reward. Claims can only be made for TWO Climbers maximum.
*The amount you receive depends on the Climb experience, and date of your Climb 👇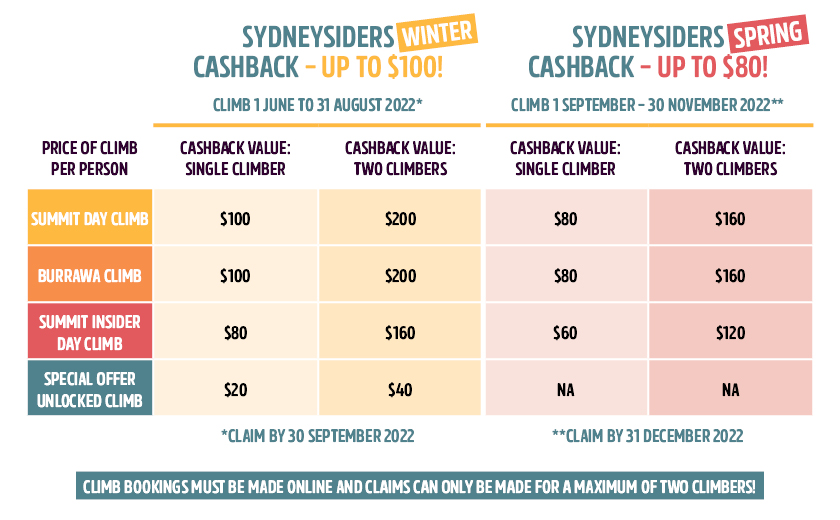 HOW to CLAIM YOUR CASHBACK!
Once you've completed your BridgeClimb experience, head back here and click on the below button to claim your cashback!
Alternatively, head directly to bridgeclimbcashback.com

Please note that a claim can only be made, AFTER you have Climbed!
ADDITIONAL SAVINGS!
REDEEM YOUR PARENTS NSW VOUCHERS!
| | |
| --- | --- |
| | Save up to $250 by redeeming one, or all of your 5 x $50 Parents NSW Vouchers when booking your BridgeClimb experience! You can redeem online, by phone or in-person. See our Parents NSW Vouchers page for more details. |