Luke's Table at the Pylon Lookout
The Pylon Lookout promises a plateful of spectacular Sydney Harbour and skyline views, featuring the Opera House and a unique view of the iconic Harbour Bridge.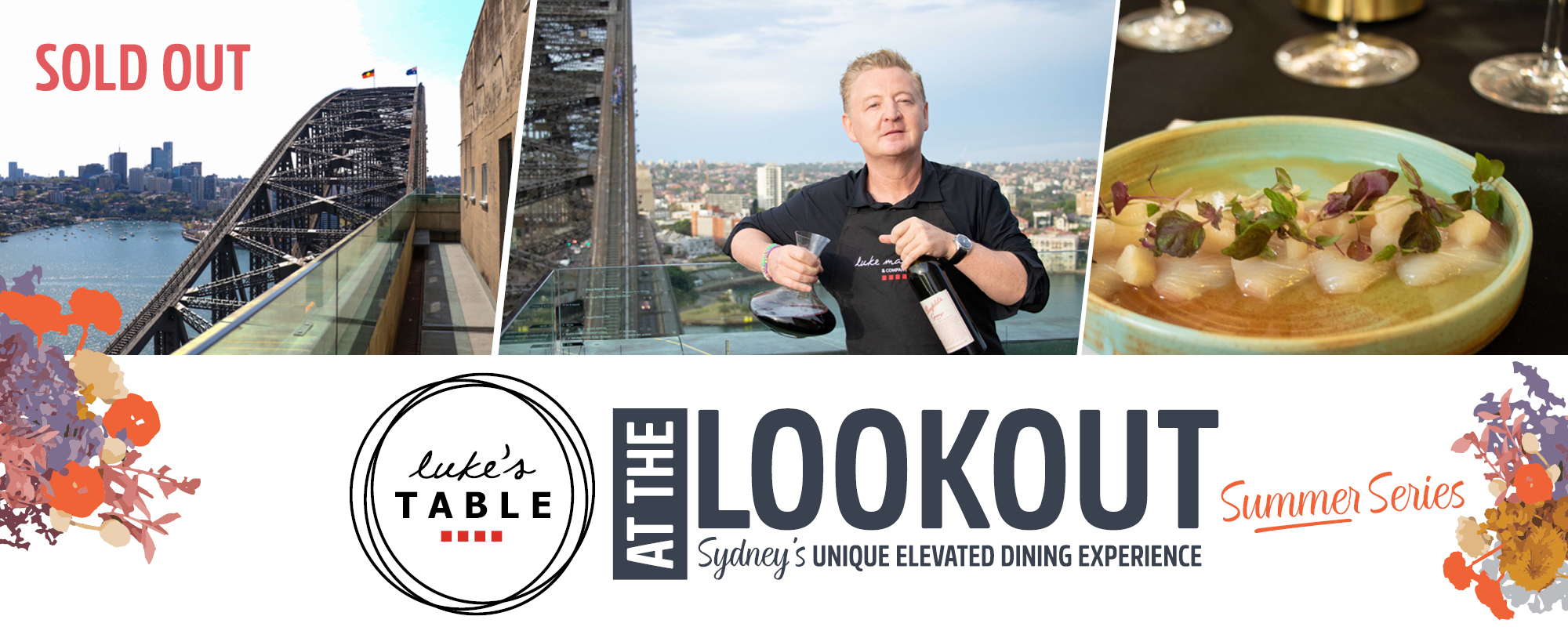 HERE'S TO SUMMER, NEW DATES SOLD OUT!
Located on the Lookout level of Sydney's hidden gem, the iconic Harbour Bridge's South-East Pylon, BridgeClimb is thrilled to announce its popular sky-high culinary experience, Luke's Table at the Pylon Lookout, is back for a special summer series.
In collaboration with renowned Australian restaurateur and chef, Luke Mangan, this unique dining experience will include a refreshed menu set to ignite your taste buds, a signature three-course dining experience thoughtfully curated with the finest and freshest Australian ingredients. For an extra touch of elegance, a glass of paired Penfolds wine will be served with each course, accompanied by champagne upon your arrival at the Lookout level to enjoy alongside canapes, and panoramic views of the Sydney Harbour.

The evening will begin with a welcome reception including mocktail upon arrival in the lower lever event space. This will be followed by a short personalised tour of the Pylon Lookout & Museum, immersing guests in the Bridge's history as they make their way up the 200 steps (no lift) to the Lookout level, where guests will enjoy the unique and elevated dining experience 87 metres above sea level.
Up to 20 guests will have the privilege of gathering at a long, communal dining table, creating an intimate and memorable atmosphere as the sun paints a beautiful canvas over Sydney Harbour. This is your opportunity to savour a once-in-a-lifetime dining experience that captures the true essence of a Sydney summer.
EVENT INFO:
WHAT'S INCLUDED:
Welcome mocktail
Short guided tour of the Pylon Lookout & Museum
A glass of champagne and canapes to enjoy once you reach the Lookout level
Evening dining experience including a three-course menu designed by Luke Mangan and his team with accompanying Penfolds wines: Maximum of one glass of wine will be served per course to adhere to safety requirements of the Pylon Lookout.
PRICE:
DATES & DURATION:
Luke's Table at the Pylon Lookout Summer Series (December 2023 to February 2024) is currently sold out. To stay updated and be first-to-know about future availability, click below.

private dining experience
Interested in an exclusive Luke's Table at the Pylon Lookout private dining experience? The Table seats up to 20 people. Send an enquiry to the Luke's Table team below if you're interested.
Enquire now for private dining
Looking to Climb and Dine?
If you're interested in adding a BridgeClimb experience for your private group prior to Luke's Table, get in touch with our team at [email protected] or via the form below, for details on special group rates and availability.
ON the day
What to wear:
The unique location of the event requires you to ascend approximately 200 stairs (no lift), therefore we suggest you wear comfortable shoes.
how to get there:
From The Rocks – take the Harbour Bridge lift or stairs from Cumberland Street, located opposite The Glenmore Hotel. Turn right and walk North along the pedestrian footpath for 300 metres until you reach the South-East Pylon entrance. You will be required to be at the South-East Pylon entrance at 6pm sharp to meet your host who will guide you up over 200 steps (no lift) to the Lookout level where you will find Luke's Table.
From Milsons Point – head to the Bridge footpath via the stairs or lift and walk South for 800m to reach the Pylon entrance. You will be required to be at the South-East Pylon entrance at 6pm sharp to meet your host who will guide you up over 200 steps (no lift) to the Lookout level where you will find Luke's Table.

TERMS AND CONDITIONS
This event is for over 18's only.
The price is per person and there is an additional $10 booking & credit card fee
Cancellations
Please be advised that due to the nature of the event and limited ticket numbers, this is a non refundable dining experience, however the ticket is transferrable. Any enquiries in relation to this can be directed to [email protected]
CONDITIONS OF ENTRY
The following conditions apply to all persons who visit The Pylon premises and are the terms of trade of Feliz Puente Pty Ltd ABN 79 625 999 877("BridgeClimb Sydney") and all dealings relating to the BridgeClimb Pylon Lookout & Museum ("The Pylon") will be on these Terms of Trade ("Terms") unless otherwise agreed in writing by BridgeClimb Sydney. These Terms are also subject to revision and change without notice.
The Pylon may refuse entry to its premises to any person if in The Pylon's discretion that person may adversely affect the health, safety or security of The Pylon's employees, the person, or other people at The Pylon. At The Pylon's discretion, the person will be reimbursed for the cost of the Ticket if the person is refused entry to its premises for any reason other than inappropriate behaviour. You may be refused entry or removed from The Pylon if you are under the influence of drugs or alcohol.
Ticketholders acknowledge that in order to enhance security, surveillance equipment (including security cameras) may be used at The Pylon. Ticketholders also consent to the use of any such film, image or recording at the discretion of The Pylon or law enforcement agencies without compensation or further notice.
Access to the Pylon premises is at your own risk and if you sustain any personal injury, loss or damage to property, you hereby agree that The Pylon is not liable to you and has no responsibility to you for any such personal injury, loss or damage to property. You are responsible for your own safety at all times through responsible behaviour.
Alcohol and glassware not purchased at The Pylon is not permitted to be brought onto The Pylon premises.
All persons must abide by any other conditions communicated by The Pylon Team or displayed at The Pylon premises.
WHAT'S ON AT THE PYLON
To stay updated with future BridgeClimb Pylon Lookout & Museum events including dining experiences, complete the below form and you'll be first to know!