School Holiday Special Offer
Kids Climbs only $99 during the NSW school holidays!

Get ready to climb these school holidays!
Spring is here, and with it, the September / October school holidays!

BridgeClimb Sydney is excited to announce a range of special offers providing families with the opportunity for some adventure filled fun in the sun from Saturday 23 September – Sunday 8 October.
Climbing the Sydney Harbour Bridge with kids during the school holidays is an unforgettable adventure. Equipped with special suits and safety gear, you'll scale the iconic arches while your Climb Leader shares stories about its history and engineering. With breathtaking views of the city and harbour below, this Climb is sure to be a memory that your family will treasure for years to come.
Don't miss your chance to explore new heights with up to 48% off Kids Climbs*. Imagine the joy on your children's faces as they reach the Summit, feeling as proud as a peacock.
Happy Climbing!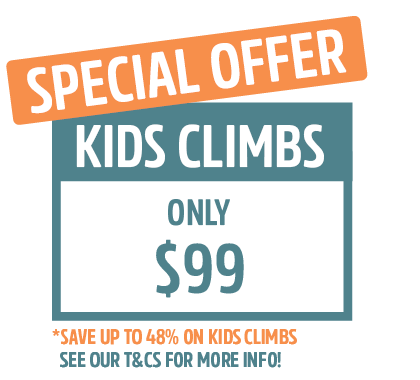 VALID for climbs from Saturday 23 September to Sunday 8 October
*Savings of up to 48% off is based on the price of kids Ultimate, Twilight and Dawn Climbs.
Savings on other Climb types is 34%.
ADDITIONAL FAMILY SAVINGS ALERT!
Families of four residing within Greater Sydney's postal code can enjoy remarkable savings this school holiday season. When you embark on your Climbing adventure during the first week of the school holidays or by the end of September, you'll unlock extraordinary discounts of up to 30%.

Encouraging locals to rediscover the beauty of Sydney, BridgeClimb is offering adults living in the Greater Sydney postcode area a BridgeClimb Prepaid Digital Mastercard of $100 per person if they Climb the Harbour Bridge during the day before the end of September 2023. The Sydneysiders Spring Cashback Offer means select Adult Day Climbs are reduced to $244 with the cashback reward, with the cashback amount received depending on the Climb experience and date of Climb.

Adventure enthusiasts who embark on their BridgeClimb journey between October 2023 and January 2024 will be rewarded with a generous $50 cashback

Looking for adventure? You've come to the right place. Climb the iconic Sydney Harbour Bridge and receive $100 worth of adventure coupons to use at five other iconic Sydney experiences. If you're up for adventure, these are some of the other not-to-be missed bucket list items while in Sydney!
BOOK WITH CONFIDENCE
Our flexible booking options allow unlimited date or time changes, up to 14 days prior to your original climb booking, for a period of three years. See our terms and conditions for full details.
TERMS & CONDITIONS:
The school holiday special offer is valid for Climbs taken during the NSW Spring Public School Holiday period of Saturday 23 September to Sunday 8 October 2023
Child tickets are for ages 8-15 years inclusive
Children must also be over 1.2 metres tall and accompanied by an adult, with a maximum of three children per adult.
$99 Child tickets are valid across all Climb types (Summit, Summit Insider, Ultimate and Burrawa) and times of day (Dawn, Day, Twilight and Night climbs), subject to availability
*Savings off a standard full priced Kids Dawn and Twilight Climb