COVID-19: Health and Safety at BridgeClimb
Climbing back on top, together.
COVID-SAFETY UPDATE 2 NOVEMBER 2021
In accordance with current government health orders, climbs are available for fully vaccinated guests and those with medical exemptions* (note: children 8-15 years will not need to be vaccinated to visit). As of 15 December (or the date NSW reaches 95% vaccination rate), we expect to be able to welcome unvaccinated guests. Of course, all of our plans and visitation guidelines are subject to NSW Health Orders and we will continue to review our policy as requirements change.
*medical exemptions should be documented and authorised by a medical practitioner in accordance with the requirements of the NSW Chief Health Officer.
Bridgeclimb is registered as a COVIDSAFE business
At BridgeClimb, your Health & Safety is and always will be our primary focus, and we're pleased to let you know we are registered with the NSW Government as a COVIDSAFE business. This means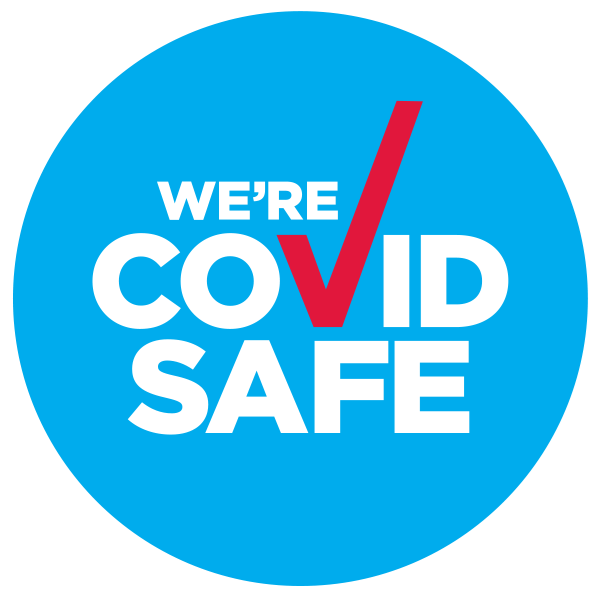 we've made a few changes to keep you and our team safe, but you can still look forward to an unforgettable and exciting experience!
With the gradual re-opening of the tourism sector amid the current pandemic, we will be operating under COVIDSAFE protocols that provide a level of hygiene and control, enabling us to reduce the spread of this virus together.
VISITINg Bridgeclimb
BridgeClimb acts in-line with the current NSW Health orders so please make sure you are eligible to visit BridgeClimb at this time.
Please stay home if you are feeling unwell, have been in contact with a suspected or confirmed case within that last 14 days, are awaiting the results of a COVID-19 test or have been requested by NSW Health to self-isolate or stay home.
QR CODE CHECK-IN PROCESS AND PROOF OF VACCINATION OR MEDICAL EXEMPTION
It is a NSW Health requirement that all visitors (aged 16+) will need to check-in via the Service NSW app and provide proof of vaccination or medical exemption in order to enter BridgeClimb. Confirmation of check-in will be required at the point of entry along with digital or printed vaccination certificate/medical exemption. Please ensure you have downloaded the app prior to arrival and check in using the QR code once outside the premises.
Please note that upon entry to BridgeClimb you will also be asked to provide your completed Health & Safety Declaration along with your current ID (photo ID preferred), in order for us to verify you are safe to climb. We apologise for any duplication of information during this time and we appreciate your patience as we comply with current health orders and ensure a safe and secure experience on the Sydney Harbour Bridge.
MASK REQUIREMENTS
Based on current restrictions, all guests to BridgeClimb are required to wear a mask while inside the BridgeClimb Base during the check-in and climb preparation/return process. Our team can provide you with a mask if needed. Climbers will also be given the option to wear a buff (with a PM2.5 filter) that can be worn on the Bridge during the climb, although this is not mandatory.
To ensure we maintain our safe environment we have put in place THE FOLLOWING COVIDSAFE PROTOCOLS:


Enhanced monitoring & health screening of all our climbers


Contactless ID checks for all climbers


Physical distancing


Messaging throughout BridgeClimb, providing clear guidance to visitors


Socially distant small Climb groups
Good to know: BridgeClimb has always been a small group activity (Max. 14 climbers per group)


Hand hygiene - provision of hand washing and sanitiser stations


Increased cleaning throughout (high frequency)


Card-only transactions (contactless)
What's not changed?
Our safe and authentic approach to climbing the iconic Sydney Harbour Bridge, the breath-taking views you'll experience as you journey the famous arches, and the great sense of achievement you'll feel when you reach the Summit!
YOUR HEALTH & SAFETY IS, AND ALWAYS WILL BE, OUR PRIMARY FOCUS
During these times, It's more important than ever to look out for one another, our families, our fellow climbers, our awesome team and our wider community.
We need you to play your part
If you're showing symptoms of COVID-19 please do not visit BridgeClimb, instead please seek medical attention. Call your doctor, your local Emergency Department or healthdirect on 1800 022 222 and avoid contact with others. If you do arrive at BridgeClimb with flu-like symptoms, you may be refused entry to BridgeClimb – please see our terms and conditions.
Wash your hands regularly with soap and water and for at least 20 seconds ("Happy Birthday to you…")
Utilise the additional hand sanitiser stations provided throughout BridgeClimb
Avoid touching your nose, mouth or eyes
Cover your mouth and nose when you cough or sneeze with a tissue or into your elbow
Put used tissues in the bins provided
We greatly appreciate your support for Australian tourism and attractions in these difficult times and look forward to welcoming you to BridgeClimb.

Please contact us should you have any further questions or need assistance.