School Excursion Climb
Take your students on an educational journey over the Sydney Harbour Bridge as they learn about the history of this 1920's engineering masterpiece.
The School Excursion Climb presents a unique and real life case study of one of the city's oldest pieces of architecture, and is suitable for a single class, year group or entire school.
CLIMB DETAILS
This really special group Climb combines learning in a fun and engaging way ensuring this excursion is one that students will always remember. It's rare to be 134m in the air and be learning about what you are actually standing on, how it was built and the stories that make up its colourful history - an excursion that is completely unique.
Students can climb from age 8 years and above, and must be at least 1.2 metres in height. Teachers must supervise students on the climb, and depending on the age group, a ratio of one adult to every three students is required.
CLIMB INCLUSIONS
Guided Climb with an experienced Climb Leader

Complimentary use of BridgeClimb's newly refreshed Event Space for pre or post-climb workshops with optional catering (subject to availability)

Complimentary group photo at the Summit

Commemorative BridgeClimb Cap

Certificate of Achievement
CLIMB ROUTE OPTIONS
The School Excursion Climb is designed for groups of 8 or more and is available on the Summit & Summit Express Climb routes.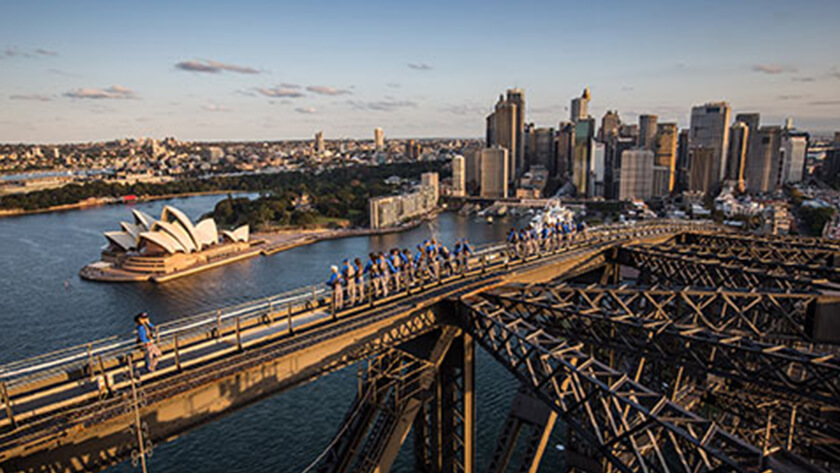 Summit (3 hours) – take in the unmissable views of Sydney as you ascend the upper arch of the Bridge on our original Climb experience. Your journey will take you along the very top of the iconic landmark, 134 metres above the harbour. This Climb suits everyone including families with kids who are confident scaling ladders along the route to reach the top.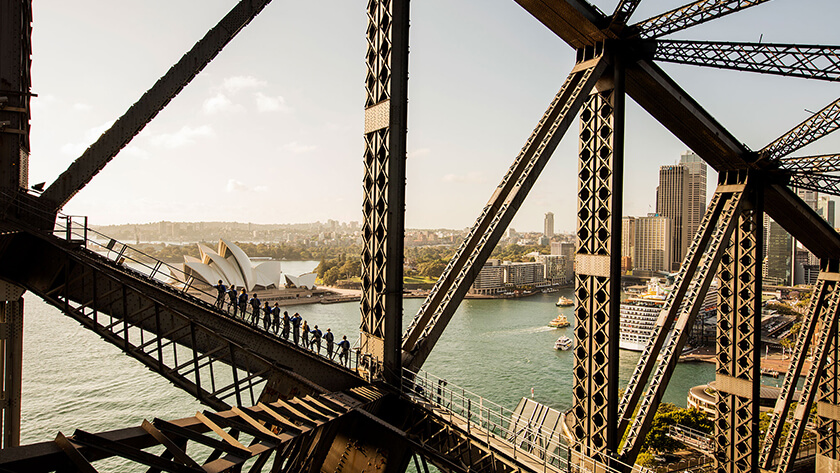 Summit Express (2.5 hours) – You will feel like you are inside the iconic Harbour Bridge, as you climb the stairs of the lower arch surrounded by beams of steel and the hustle and bustle of the traffic below. With fewer stops along the Summit Express route and no ladders, you will reach the top in no-time for a Summit celebration and a moment to take in the 360° panorama of Sydney.
Not sure which Climb is best for your school excursion? No worries! We can answer all of your questions and provide you with a bespoke quote. Contact our team at events@bridgeclimb.com
READ ABOUT HEALTH & SAFETY AT BRIDGECLIMB