BridgeClimb celebrates 21st birthday with a brand refresh
Sydney's iconic BridgeClimb is getting a makeover to celebrate its 21st birthday, the brand is undergoing a refresh for the first time in line with it's birthday celebrations. This also marks a year since Hammons Holdings were appointed by the NSW Roads and Maritime Service to operate tourism services on the bridge for the next 20 years
Over the past 12 months BridgeClimb has collaborated with The Works conducting research into what BridgeClimb means to its staff, customers, Sydneysiders and visitors from all over the world. The rebrand highlights BridgeClimb as a bold custodian of the Sydney Harbour Bridge, connecting all people to the heart of the city. The BridgeClimb experience brings Sydney alive, with climb leaders sharing legacy stories of the icon, it's people and the city. BridgeClimb's rebrand is respectful of its history and dedicated to the safety of every climber.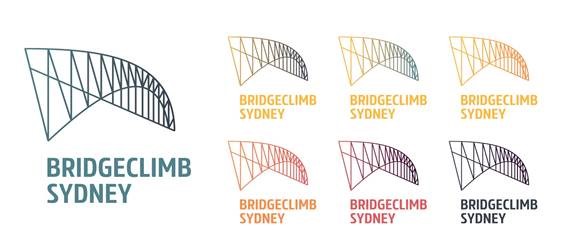 BridgeClimb's new fresh and contemporary logo highlights the incredible engineering of this man-made structure. The flexibility of a new palette of colours reflect the many colours of the Australian skyline that Climbers experience during different times of the day with the unique BridgeClimb "Harbour Bridge Grey" being the primary colour.
From October 1st the BridgeClimb's new tagline 'One Bridge, infinite climbs' will launch a tribute to the four climb experiences in three different languages available alongside a new website, front facing staff uniforms and marketing with an updated climb suit to follow.
'The rebranding project highlighted that the constant structure of the Sydney Harbour Bridge provides infinite experiences for customers and staff. No matter how many times, when you climb the icon, whether a celebration, commemoration or simply to see Sydney from up high, the new brand celebrates the beauty of the structure and the fresh perspective it gives you every climb.' said Jordanna Kirby, Head Of Sales and Marketing.
Kevin Macmillan, Creative Partner at The Works added 'Every climb is different for every single individual and we wanted to make this new logo dynamic to represent this. Our aim with this new logo is all about new perspectives. If you do a BridgeClimb you see Sydney from a whole new perspective and we wanted to convey this with the striking new logo that shows the Bridge in 3D'.
"BridgeClimb is all about connecting people to the heart of Sydney. This logo is all about new memories with brand new views. With our 21st Birthday launching we felt it was the perfect time to celebrate one Bridge with infinite climbs, with a new logo" said Chris Zumwalt, CEO, BridgeClimb.
BridgeClimb was launched in 1998 and has become an integral part of the Sydney tourist scene. It operates four different climbs spanning from day to night.
For more information or to interview Chris Zumwalt, BridgeClimb or Kevin Macmillan, The Works, please contact Jessica from BridgeClimb on [email protected]