BRIDGECLIMB AND RSL DEFENCECARE HOST A SPECIAL DAWN CEREMONY AT THE SUMMIT
To remember and honour all who have served in our Armed Forces, we partnered with RSL DefenceCare to hold a special ANZAC Day Dawn Service atop the Sydney Harbour Bridge.

Before the sun rose, over 100 Climbers gathered at the summit to remember with admiration and respect those who have selflessly served their country. The Dawn Service was an intimate and memorable tribute to all past and present servicemen and women who put serving their country above all.

With the summit flags at half mast, standing 134 metres above Sydney Harbour, the service paid tribute to our wounded soldiers including a heartfelt commemorative address by Veteran and Manager of Claims and Advocacy for RSL DefenceCare, James Dallas.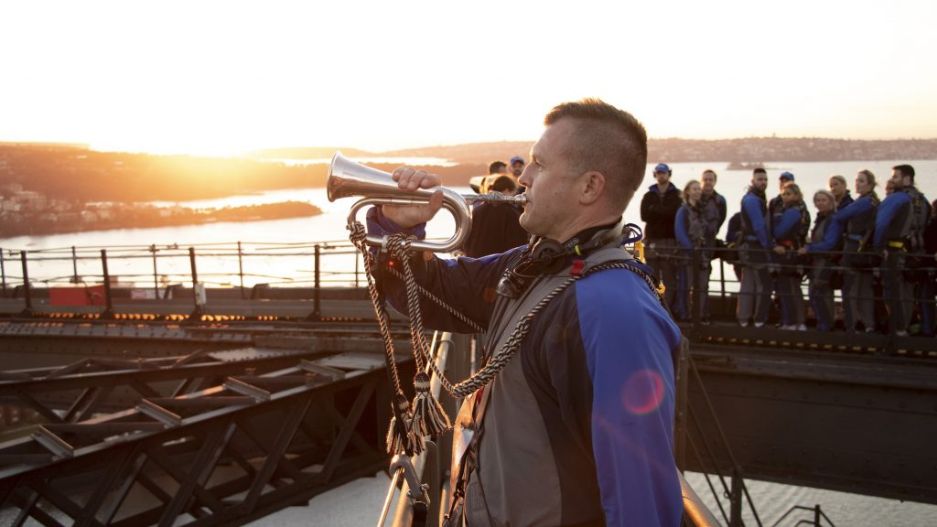 As the sun rose from the horizon, the final words of The Ode were spoken, followed by The Last Post by Lieutenant Brian O'Kane, which resonated proudly from the highest point of the Sydney Harbour Bridge.

This event honoured and remembered our fallen servicemen and women with all profits from the Dawn Service Climb donated to RSL DefenceCare, who work tirelessly to help Australian veterans and their families in times of injury, illness and or crisis.

Lest we forget.

BridgeClimb hosts Dawn Climbs: Spot the sun breakthrough on the horizon as the city kicks into gear.

These Climbs depart before daybreak (limited departures). If you're interested in climbing with us, visit our Climbs page to book and find out more about our different experiences.

Hope to see you, and your family, at the top anytime soon!