Australia Day Events you can't miss!
Sydney Harbour is a pretty spectacular place to spend Australia Day, and if you want to watch the festivities from the best seat in the house, there's no better vantage point than the top of the Sydney Harbour Bridge. We've put together our favourite harbourside events and the Climb times you need to book if you want to enjoy them from the summit of the Coathanger:
Salute to Australia – 11:30am to 12:15pm
A 21-gun military salute involving the Australian Army, Royal Australian Navy and Royal Australian Air Force provides the ceremonial highpoint of the Sydney Harbour program and is now a much-loved Australia Day tradition. If you want to watch it from the top of the Bridge, book a BridgeClimb between 9:25 and 10:05 am or a BridgeClimb Express between 10:20 and 11:10 am.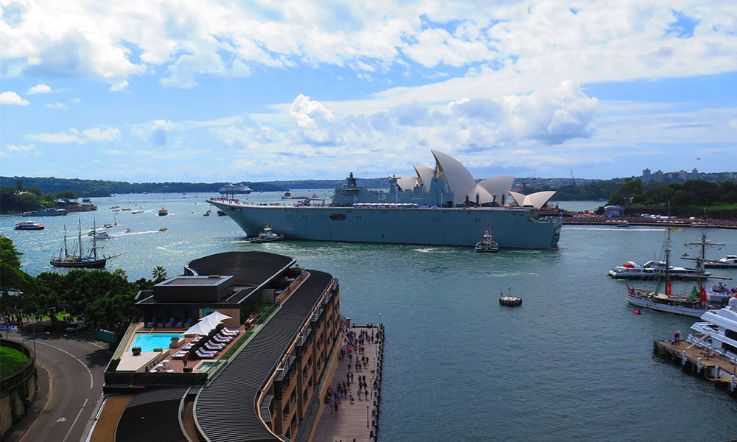 Tug & Yacht Ballet – 12:05pm to 12:15pm
Watch a fleet of yachts, powerful tugboats, jet skis and ferries join in on a dance that's truly one of a kind. Choreographed to classical music, the vessels will manoeuvre in unison in an amazing show of maritime grace and movement. Book your BridgeClimb between 10:55 and 11:05 am or a BridgeClimb Express between 10:50 and 11:00 am to enjoy the show from the summit.
Australia Day Harbour Parade – 12.45pm to 2pm
Vessels of all shapes and sizes will be decked out in their Australia Day finery for the annual parade. To watch the show of colour and flags parading around the harbour from the best vantage point, book a BridgeClimb between 10:45 and 11:55 am or a BridgeClimb Express between 11:30 am and 12:40pm.
In the Sky – Red Berets, Qantas and Hornets – 1.15 to 1.30 pm
Between 1:15 and 1:30pm, three Hornet F18s and a Qantas A380 will fly over the Bridge, culminating in a Red Berets' parachute display by the Australian Army over Farm Cove. Get close and personal to the action by booking a BridgeClimb between 11:05 am and 12:25pm or a BridgeClimb Express between 12:00 and 12:20pm.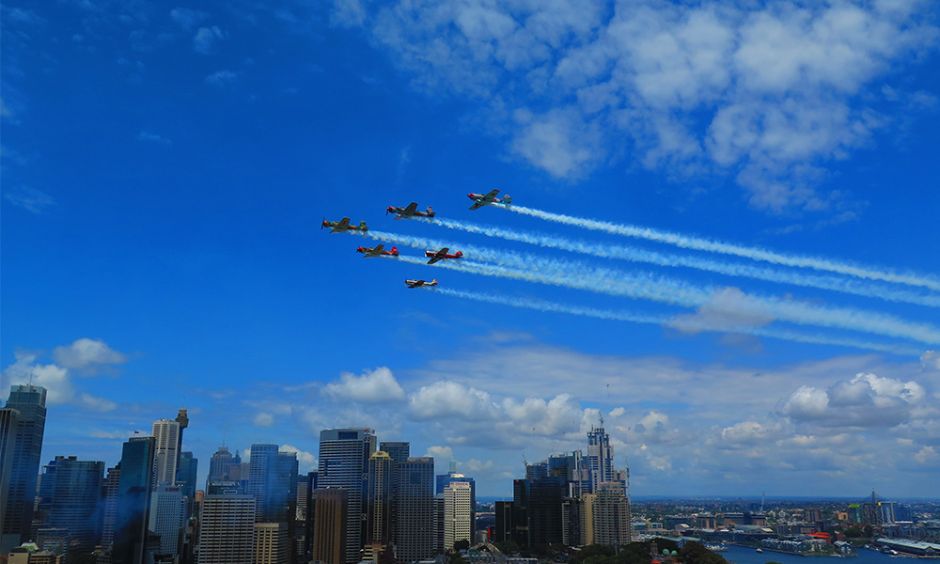 Live at the Quay Fireworks – 9pm to 9.30pm
Is there a better way to end the day's festivities than with a spectacular fireworks display? We didn't think so… Between 9 and 9.30 pm, a synchronised fly board and jet sky performance will; take over the water, culminating in a massive fireworks display. Get the best view from the summit of the Coathanger when you book a BridgeClimb between 6:55 and 7:25 pm or a BridgeClimb Express between 7:40 and 8:20 pm.

For one day only, on the 26th of January, all our Climbers will enjoy a soundtrack of the best Aussie Rock music through their headsets.