Australia Day in Sydney: 5 events you can't miss
Sydney Harbour goes all out for Australia Day celebrations, and the coming Thursday 26 January will be no different. Wandering around the Harbour is a fantastic way to spend the day, but we've rounded up the top 5 events you don't want to miss.
1. Climb to the summit of an Australian icon to get the best view of the spectacle:
There is no better place to enjoy the Australian day festivities than from the top of an Aussie Icon. And this year we are bringing a special surprise to all Australia Day Climbs: listen to a soundtrack of the best Aussie rock as you stand 134 metres above the harbour and take in the sights.
2. Watch Australia's First Fleet ferries compete in the Ferrython race:
The novel race takes place at 10.45 on the Harbour. Cheer on your boat as the vessels make their way to the finish line, right under the Bridge!
3. Follow the action in the sky during the Russian Roolettes aerobatic show:
Don't forget to look up! The action will erupt in the sky at 12.30, as the squadron of the Russian Roolettes soar through the skies.
4. Watch over 40 boats compete for the best-dressed title at the Harbour Parade:
Starting at 12.45, a fleet of boats – from big to small – will party in the water all decked up , in the hopes of taking home the 'best-dressed boat' title.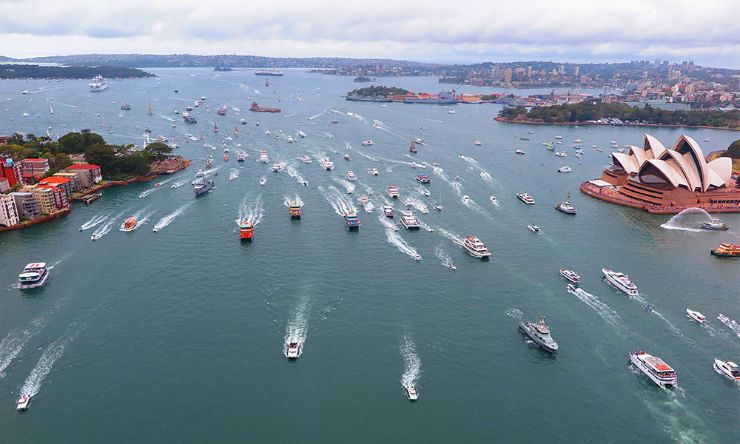 5. Enjoy the Australia Day Spectacular firework show at Darling Harbour:
As the day comes to an end, head to Darling Harbour to enjoy a breathtaking symphony of light, sound and pyrotechnics.

For the best vantage point to enjoy the Australia Day festivities, book a Climb on the 26 January.