BridgeClimb's SECOND ANNUAL Climb for a Cause charity event raises over $20,000 for Black Dog Institute
BridgeClimb Sydney would like to say a huge THANK YOU to all those who stepped up and participated in the second year of our Climb for a Cause charity climb event, in support of our partner and Australia's leading mental health research organisation Black Dog Institute on Sunday, 7 May 2023.
The event raised over $20,000 in funds and awareness for Black Dog Institute, which will allow them to continue working to improve the lives of people impacted by mental illness through ground-breaking research, national education programs, and support services.
More than 200 people from across the country ascended the iconic arches of the Sydney Harbour Bridge throughout the day, guided by an expert Climb Leader on a route unique to the event. As well as enjoying the 360-degree spectacular views of Sydney, Climbers learnt about the fascinating history of the Harbour Bridge and important information surrounding mental health.
A relaxation station was waiting for Climbers as they came off the Bridge, where our guest experience partner Nudie treated everyone to a range of refreshingly delicious juices, while they reflected on their climb achievement and celebrated their fundraising efforts.
BridgeClimb also partnered with Pier One, Glenn McKimmin, Harbour View Hotel and Darrell Lea, who provided incredible prizes for the top individual and group fundraisers.
fundraising prize winners
Congratulations to our top fundraisers! Your amazing achievement and dedication in raising funds will make a significant impact in the lives of those suffering from mental health issues.
top individual fundraisers
1st prize - one night stay at pier one hotel sydney harbour (inc. breakfast) for two people
SIEW-KEE CHEN - RAISED $5,522
2nd prize - framed 'sail away' glenn mckimmin print
BEC - RAISED $3,296
3rd prize - $250 harbour view hotel voucher
IT'S PRONOUNCED MEGAN - RAISED $2,800
top fundraising team - GROUP VIVID SYDNEY CLIMB EXPERIENCE FOR UP TO 14 PEOPLE
DELOITTE - RAISED $7,772
It was inspiring to see Climbers come together to support each other and the Black Dog Institute, and to hear from participants about why improving mental health is so important. Thank you to two of our top fundraisers who have kindly shared their personal stories behind their Climb for a Cause!
CLIMBER STORIES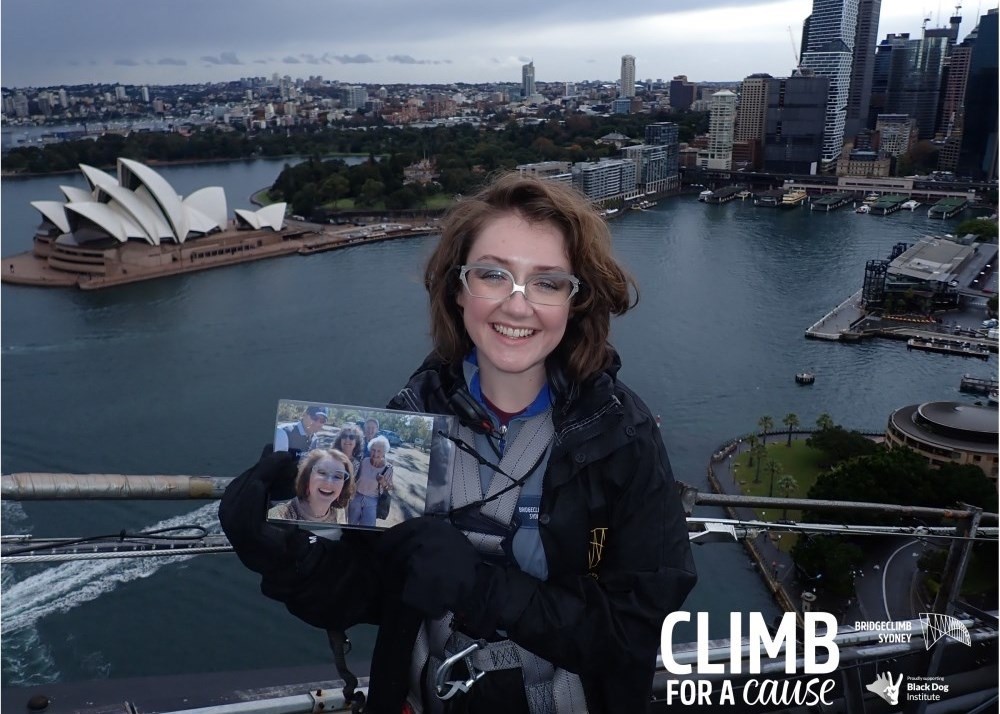 Mental health issues such as anxiety and depression run in the females on my Mum's side of the family. When I was 7, my Mum had an ectopic pregnancy and developed depression. I didn't really understand it at the time, but I still remember seeing her cry. Thankfully, my Mum got through it and is one of the strongest people I know. She is on medication for anxiety but has an incredible support network including my Dad.
After a buildup of events and experiences, I developed severe anxiety and depression when I was 23 and moved back in with my parents in Perth. Words can't describe how awful the time was, I couldn't get a job and felt helpless. I called Lifeline twice during this period, and I don't know what I would have done without it. Looking back, I was anxious growing up but never realised it was a 'thing' till I was in my twenties. With a great support network, including family, friends and previously being on a mental health care plan with THE most incredible psychologist, it's the best I've felt for a long time. Going to the gym, eating well and having a great support network are what I'm most grateful for.
The biggest thing that made me climb for the Black Dog was my Nan. My Nan experienced depression a few years ago and thankfully came back out. Late in 2018, my Grandad had a heart attack and was thankfully ok. However, from here my Nan began to spiral. Without the proper support and health care, she got worse and worse. I remember my Mum being on the phone with her a few years ago and my Nan saying she wanted to die. I'll never forget the last time she and my Grandad visited in Perth, we were talking in the door frame of my room. I was trying to tell her how much I understood how she felt and that she wasn't alone. She told me that I didn't understand because I wasn't old and didn't know what it was like. A few days after they left, Covid-19 started and it was the last time I saw her.
A month after I moved to Sydney in 2022, my Nan passed away from Bowel Cancer. But the Nan I knew, grew up, loved and laughed with died a long time ago thanks to the Black Dog. I was and still am angry at times because I feel that if she had the right resources, support and understanding she would still be here. Depression doesn't discriminate and I think we forget that elderly people experience it too.
I was a bit emotional in the run up to the climb as all I could think about was my Nan. I miss her so much and always will.
I've wanted to help others with depression and show that you can get through it, but didn't really know how to. Since losing my Nan, it's made me want to help even more. I want to raise awareness that mental illness can affect any and everyone. That you can get through it with the right tools and that you're never alone. If the money I've raised helps someone's friend, Mum, Sister, Aunt, Cousin or Nan from giving up hope and helps them get through, I'd climb the Sydney Harbour Bridge every hour.
Thank you for reading my story, it's a bit of a long one spanning three generations.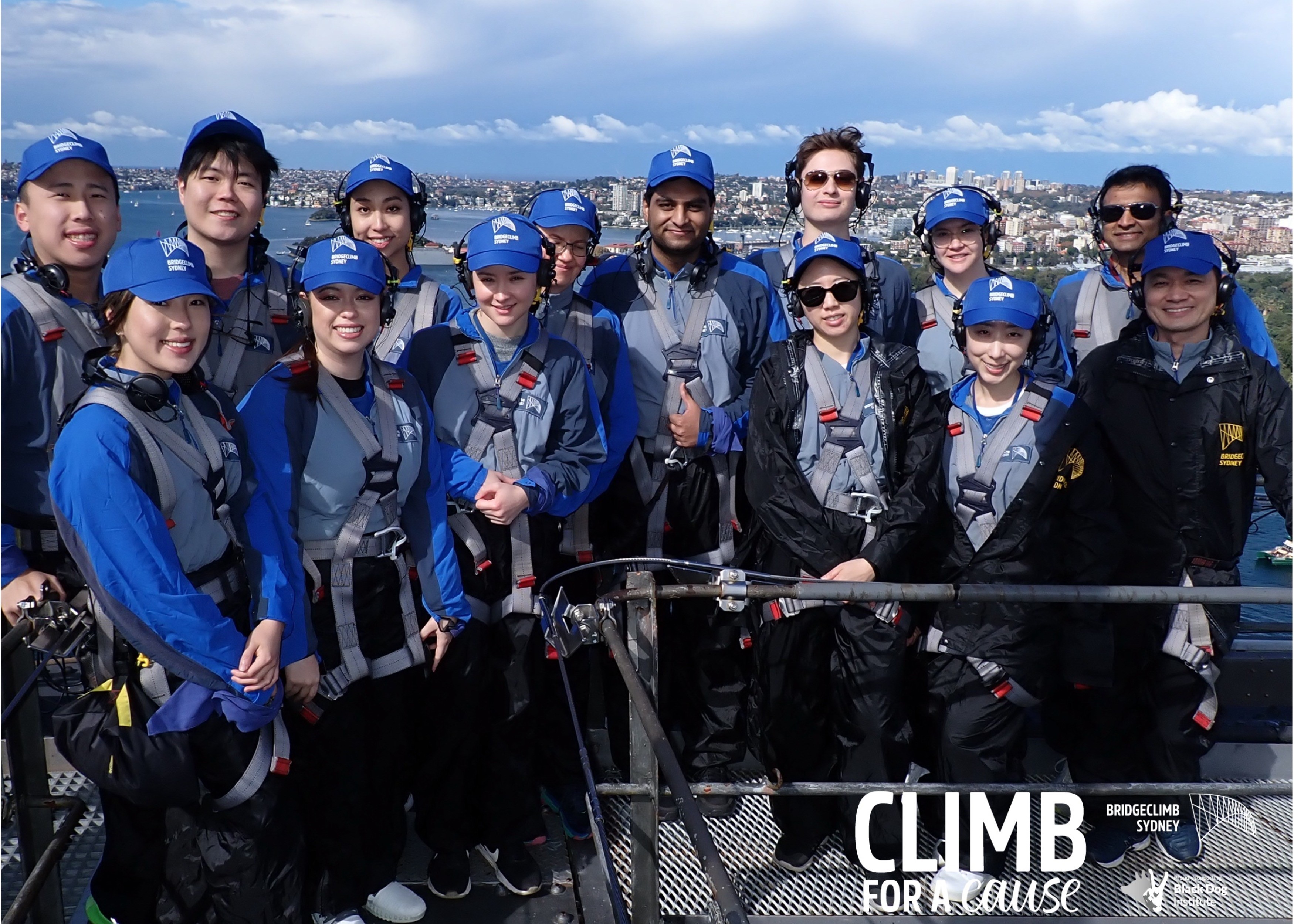 Deloitte is a purpose-driven organisation and has a proud history of giving back to the communities where we live and work. Mental health is a cause we feel passionate about. We were inspired to participate in, and support, Climb for a Cause 2023 to make a positive impact in mental health and support the services of the Black Dog Institute; and to live our firm's purpose to make an impact that matters
One of our biggest community commitments later in 2023 is our annual volunteering initiative, Impact Day. Thousands of Deloitte leaders and professionals across the country down their usual work tools to make a positive contribution in our communities. The same Deloitte team will continue supporting mental health and Black Dog Institute on Impact Day.
Since 1998, BridgeClimb has strived to make Climbing for good causes a focus, and are proud that our Climb for a Cause event continues to make a difference in BridgeClimb's Bridge to Better mission.