CLIMB THE BRIDGE ON CHRISTMAS DAY
PLEASE NOTE THAT BRIDGECLIMB IS NOT OPEN ON CHRISTMAS DAY IN 2021
Whether you're visiting Sydney for the holidays or just looking to do something different, climbing an Australian icon at Christmas will definitely be a day to remember. And, who knows, it may even become a new tradition! Here are four reasons why you should celebrate Christmas on the Bridge:

The whole family can join in the fun. Kids from 8 years of age, and anyone who has a good level of health and fitness is welcome to Climb the Bridge – we've had Climbers up to 100 years old! So get the whole family together, from the kiddies to the grandparents, and celebrate with a view like no other.

It's a special experience for travellers and newcomers. If you're breaking from tradition this year, what better way to celebrate Christmas than with a once-in-a-lifetime experience? Whether you've recently moved to Sydney or are just passing through on your travels, avoid any holiday blues and join our BridgeClimb family on Christmas Day. Plus, a photo on the Bridge is the perfect holiday postcard to send back home!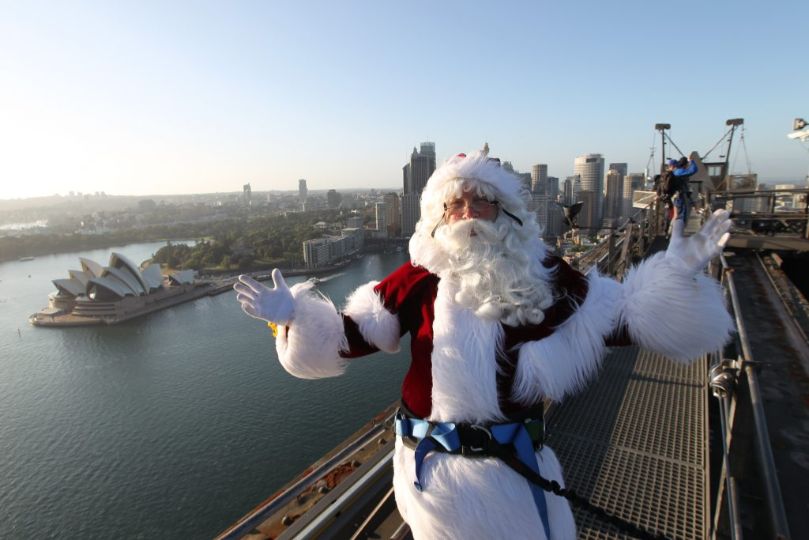 It will be a Christmas Day you'll never forget. Do you remember what you did on Christmas Day last year? Neither do we. Christmas dinners past tend to all blend together, but standing at the top of the Harbour Bridge on Christmas Day is something you'll treasure forever.

You might get to meet the big man himself! Santa has been known to make an appearance on the Bridge on Christmas Day, so there's a chance you could get to meet him this year too. Get your picture taken with Santa 134 metres above the sparkling harbour.

A Climb is also a great Christmas Gift idea for your loved ones – find out more about BridgeClimb Gift Certificates here.