Climbing above Cerebral Palsy: Andrew's dream to conquer the Sydney Harbour Bridge.
On a picture perfect morning in Sydney, despite the challenges of Cerebral Palsy, Andrew West made his dream of climbing to the top of the Harbour Bridge come true. Andrew had set his sights on the summit on his 21st birthday, more than 6 months ago.

When he visited BridgeClimb on May 2016, he was encouraged to develop a plan to help him achieve his dream of taking the 1,002 step journey. During these 6 months, he worked closely with the Cerebral Palsy Alliance, his trainers and BridgeClimb to develop a training program and on-site assessments to make sure he'd be ready to reach the summit.

With the additional motivation of International Day of People with Disability, Saturday 3rd December 2016, Andrew became ready to demonstrate that his disability didn't stop him achieving his goal.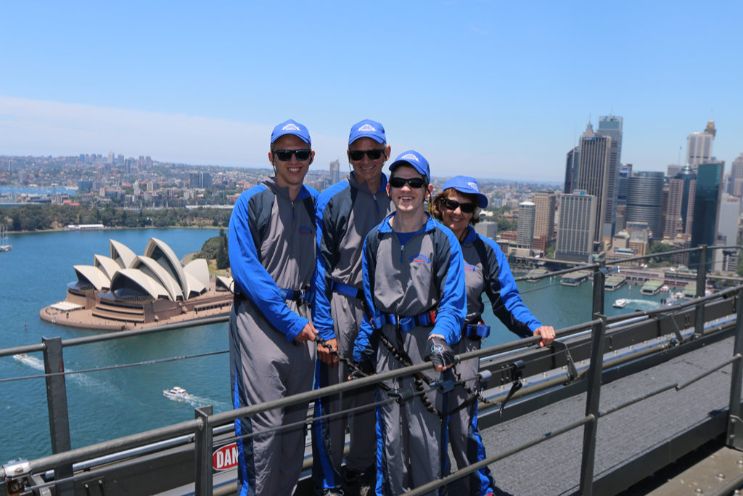 Standing 134 metres above the sparkling harbour, with a smile on his face, Andrew said "If you set your mind to it and train hard, you can do anything", when asked what he would say to others who want to Climb the Sydney Harbour Bridge, but face their own personal challenges.

Channel 7 followed Andrew to the summit of the Sydney Harbour Bridge to share his story on International Day of People with Disability:
At BridgeClimb, we believe that every day of the year is a great day to celebrate something. If you are interested in challenging your physical limitations with a climb, please read our Pre-Climb Checklist, our FAQs, or get in touch with our team with your questions. Alternatively, find out more about our Daily Climbs, Special Event Climbs, and Celebrations Climbs.