Dance Like A Diva This Mardi Gras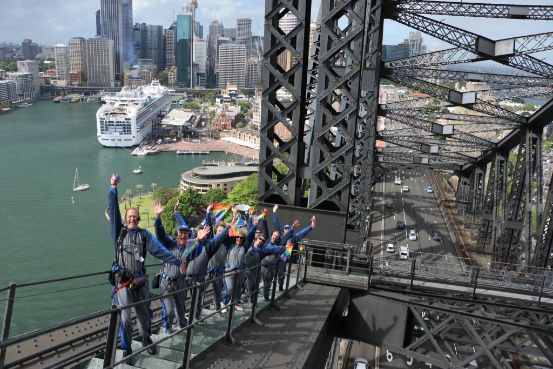 Break out the beats and donn your inner disco goddess, The Mardi Gras Disco Climb is back by popular demand! Beneath a glittering disco ball and Sydney's summer skies, you can dance AND sing on a stage like no other with you festival friends and besties this Mardi Gras.

After kitting up in the famous BridgeClimb onesie and your very own Mardi Gras hankie (ideal for waving your hands in the air like you just don't care), you'll latch onto the Bridge and depart with your Climb Group. Your Climb Leader will guide you, step by step (oh baby), along the steel and through the heart of the Bridge to see Sydney like you've never seen it before.
Upon arrival to the summit, the speakers will boot up and the karaoke machine below the disco ball will fire up with your favourite boogie beats. It's disco time!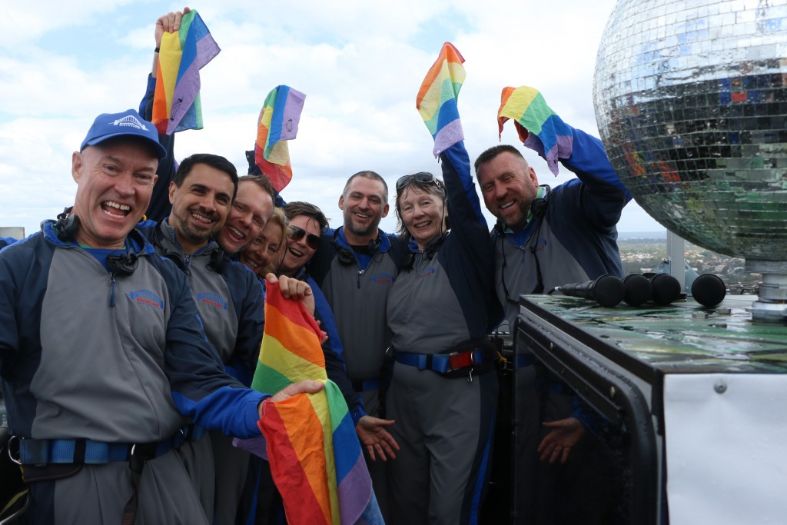 This year's tracks, selected by popular vote on Sydney Gay & Lesbian Mardi Gras' Facebook page, will comprise some of your favourite disco classics and latest tunes. Prep your moves in advance and choose from: Dancing Queen (ABBA), YMCA (The Village People), Believe (Cher), Hot Stuff (Donna Summer), I Will Survive (Gloria Gaynor), or Just Dance (Lady Gaga), when you shake it at the summit. In addition to a BridgeClimb cap, Climb Group photo, and pass to The Pylon Lookout, you'll receive a complimentary 8s video of your summit performance to keep, or share with your friends.

After your Climb, you can choose from a huge array of fabulous events in this year's Mardi Gras Festival Program.
Fair Day

descends upon Victoria Park in Chippendale on Sunday 22 February. Come together for gourmet food, rides for the kids, market stalls, comedy, dance and live music on the main stage. You can also secure your BridgeClimb tickets if you like.

After seeing it sparkling from above, enjoy Harbour Party on Saturday 28 February. Bursting with energy, this year's event is headlined by Canadian chart-topping 'Hideaway' singer, Kiesza. You can show off your very best disco moves (again).
Last but not least, the main event for Mardi Gras is the Parade. The 37th annual Sydney Gay and Lesbian Mardi Gras Parade will be held on Saturday 7 March, 2015 and there is no more perfect combination of passion and people. For more information on the Festival, go here.
The Mardi Gras Disco Climb

will be shakin' it on the Sydney Harbour Bridge from 25 February – 9 March. Show us your moves, Sydney!

Pick up your tickets today

.