Ultimate Guide to BridgeClimb Photographers Tour & Masterclasses
Find out which session is right for you in this complete guide to our exclusive photography packages.
BridgeClimb's Photographers Tour + Masterclass grants photography enthusiasts exclusive access to Sydney's most unique and stunning vantage points - the Pylon Lookout and the Summit of the Sydney Harbour Bridge, with the chance to learn about landscape photography from Glenn McKimmin, one of Australia's most well-regarded photographers.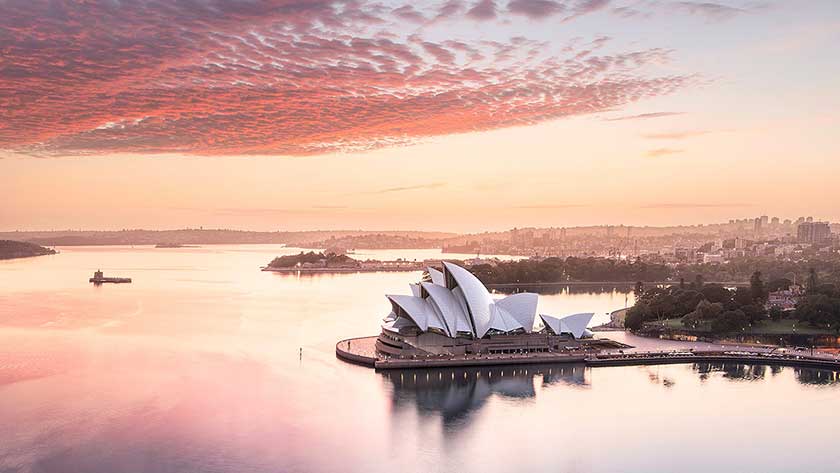 What to expect from the 2 hour sunrise or sunset shoot?
As well as exclusive access to the gun deck of Sydney Harbour Bridge's South-East Pylon, our intimate 2 hour sessions will provide photography enthusiasts with guidance from landscape photographer Glenn McKimmin on how to take that perfect iconic shot.
2 hour sessions run throughout the year and are planned around sunrise and sunset to allow for the perfect ambient lighting. We also have a special event workshop taking place on 19 August, World Photography Day. To secure your spot click here.
What to expect from the half day course?
Private bookings only, by request!
Alongside classroom time learning the art of photography with Glenn McKimmin, the half day sessions also include The Glenmore's pub lunch and the chance to access and shoot from the Pylon's Gun Deck, an area not normally accessible to the public, with sweeping views of Sydney city and the Harbour.
Please find an example half day course runsheet below, please note timings may vary:

2:30pm – 4:30pm – Classroom session on photographic vision
4:30pm – 6:30pm – Sunset photoshoot at the Sydney Harbour Bridge's South-East Pylon Lookout and Gun Deck
Check out some of the stellar shots from previous BridgeClimb Photographer Tours and Masterclasses below or find out how to book yourself in for a future tour here.
What to expect from the full day course?
Private bookings only, by request!
Amateur photographers can put their skills to the test on the Gun Deck at top of the Pylon, a space which is not normally accessed by the public. The day also features lunch at the nearby Glenmore pub, classroom time with Glenn McKimmin and finally the day ends with the opportunity to take your camera onto the Bridge at Twilight to take a limited number of landscape photos from 134 metres above the sparkling Harbour from the Bridge's Summit in a world first.
Please find an example full day course runsheet below, please note timings may vary:
10am - Arrival at BridgeClimb Visitor Centre - morning briefing and workshop

11:30am - Lunch at The Glenmore Hotel (includes meal from Two Hands menu and soft drink)

1pm - South-East Pylon photo shoot

2:30pm - Afternoon workshop at the Pylon (includes snack/drink)

5pm - BridgeClimb Base – check-in for Twilight Climb – end your day with an amazing Twilight BridgeClimb including the opportunity to take a

limited number of landscape photos

from

1 special location

on the Bridge

8pm - Post-climb photo screening and sign-off
Who is BridgeClimb's photography expert Glenn Mckimmin?
Glenn McKimmin is a professional landscape photographer from Australia with 15 years of diverse industry experience. He loves what he does for a living and generously helps others discover the life-changing benefits of photography.
Glenn and his camera have captured awe-inspiring images across a spectrum of countries including New Zealand, Slovenia, Bhutan, Canada, Ireland, England, Turkey, Syria, Norway, Austria, France, Italy, Mongolia, Kamchatka, India, Sri Lanka, UAE and the USA. When he's not covered in colour at India's Holi festival, Glenn loves to shoot local – Australian coastal and alpine scenes underpin his portfolio.
Glenn's accomplishments extend beyond a stunning suite of images – Glenn manages several pioneering businesses within the photographic industry, all geared toward appreciating the dynamic art of photography. Glenn has now established a trademark photographic style shaped by his time training with industry legends. One of the greatest influencers was his uncle – panoramic landscape photographer Ken Duncan. After many hours waiting in the wilderness, Ken taught Glenn the grand reward of persistence: when everyone else has given up, you stay put to capture that golden shot.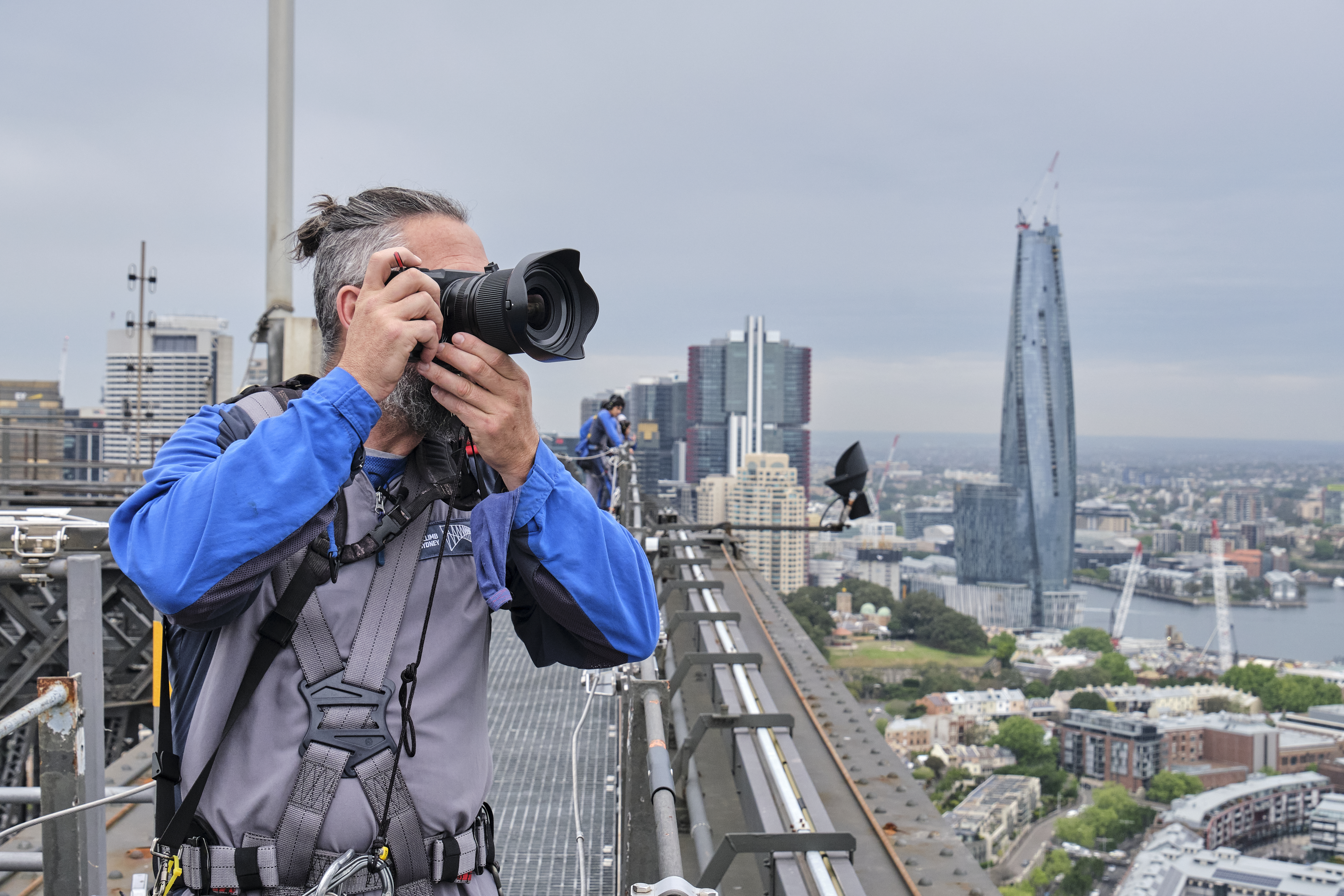 A Q&A with Glenn McKimmin, BridgeClimb's resident photography expert on what to expect from BridgeClimb's Photography Masterclasses
Why do you think the photography masterclasses have been so successful?
I think the photography masterclasses have been so successful because people were given an exclusive opportunity to do something with their photography that very few people have ever been able to do - shoot from the top of the Sydney Harbour Bridge. The experience and excitement to take photos from unique vantage points is every photographer's dream.
What type of people do you find in a photography masterclass?
It's such a wide range of ages and backgrounds, which I feel really adds to the classroom learning experience. It really is anyone with an interest in photography who wants to create truly unique images. So far it's mostly been locals but I know our photography sessions will be a huge hit with overseas guests when the time comes.
What do people learn in the classroom sessions on the photography course?

We cover some real basics of photography in the classroom part of the day. We discuss the need-to-knows about ISO shutter speeds and aperture, right through to more complex ideas around composition and other important photographic techniques.
Do people learn the same skills on the full day and half day photography course?

Each session is slightly different, we do repeat some content throughout both sessions but the bulk of the day is different. Both the Pylon and the Summit of the Bridge are quite different to shoot from but are both spectacular in their own way.
What gear do you use to shoot and why?

I use the Fujifilm GFX100S system as the image quality is simply incredible and would recommend it to anyone with a passion for photography. This delivers the best in image quality and is the highest class resolution mirrorless digital camera. If you are looking for gear but always on the go I'd recommend using the Fujifilm X-T30 or X-T3 as they won't weigh you down.
Where are your favourite photography spots in NSW and why?
I love shooting around the Sydney Harbour and especially in The Rocks precinct as it has so many picturesque views whilst also offering a lot of versatility. The Central Coast in NSW where I am based is also such a beautiful place to photograph and I also really enjoy shooting wildlife in The Snowy Mountains.
What are your top 5 tips for anyone looking to improve their photography skills?

Keep shooting; practice makes perfect

Do a workshop with your favourite photographer
Travel to test yourself in different situations and environments, this will also allow you to build a body of work using different approaches and techniques
I recommend being adventurous in your photography – looking out for other landscapes that are less frequently captured
Don't expect success immediately, photography is a long game