Always be prepared...to have fun!
GIRL GUIDES FROM All OVER THE WORLD HAVE THE CLIMB OF THEIR LIVES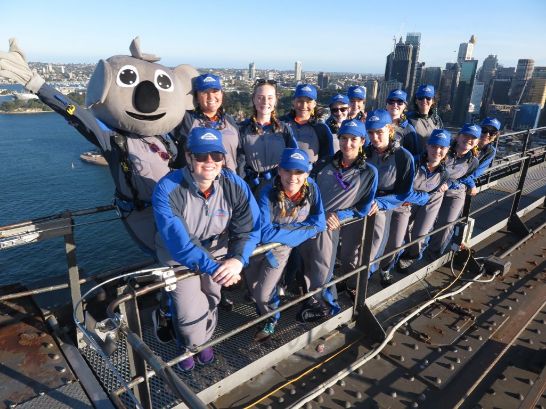 On 2 October 2018, BridgeClimb Sydney hosted 480 Girl Guides & Girl Scouts from around the world and across Australia on the Climb of Their Lives to the top of the iconic Sydney Harbour Bridge.

The girls aged 10 – 17, and leaders, visited Sydney as part of the Girl Guides Sydney Jamboree 2018, an amazing week full of activities, adventure and fun. It was a major national and international event hosted by Girl Guides NSW & ACT, and supported by Girls Guides Australia.

As true Girl Guides do, they were all prepared for the ensuing challenge. The Guides and Leaders departed in groups of 14 throughout the day and night to reach the summit wearing their personalized BridgeClimb Cap. Once there, they were greeted by the Sydney Jamboree 2018 mascot, Karri the Koala, who high-fived their achievement of reaching the top and posed with them for the iconic photograph with the Opera House and spectacular City views as the backdrop.

Once descended, they were presented with a customized Girl Guides BridgeClimb badge as a memento of their achievement to add to their badge collection.

Maryann, a volunteer organiser of the event said, "BridgeClimb was added to the program as an optional activity and everyone was given the opportunity to take part. We had a lot of internationals, interstaters and also people from NSW who had never been to Sydney, and therefore completing the BridgeClimb was an opportunity of a lifetime".

She continued, "Serveral mothers and daughters climbed together to create a lifetime memory and many were given the cost of the Climb as a Birthday or Christmas present. The 480 people who completed the BridgeClimb, had a fabulous time and loved every single minute of their experience. Also the little extras that BridgeClimb had arranged such as adding our logo onto the Climbers Caps and Certificates, and providing the girls with a BridgeClimb Girl Guides badge really made the girls feel very special. The BridgeClimb staff were wonderful, ensuring everything was organised and ready for us. We would definitely recommend this experience."
QUICK FACTS:
Name of event: Girl Guides Climb
Type: Activity as part of Girl Guides Sydney Jamboree 2018
Product: BridgeClimb Express
Attendees: 480 PAX
Date: 2 October 2018