Growing Young at New Heights: NSW Seniors Festival Ambassadors Conquer Harbour Bridge
Ten NSW Senior Festival Ambassadors effortlessly conquered the Sydney Harbour Bridge over the weekend proving age is no limit. In the famous words of Picasso, "It takes a long time to grow young", and these ten ambassadors proved just how fun growing young can be.

Climbing the Sydney Harbour Bridge can embody a different meaning to every individual who climbs. For some of our seniors, this was their first encounter with our city's famous Aussie icon. There were nerves for fear of heights, and excitement for the sense of achievement that awaited them at the top. Nonetheless the group soldiered on, and were met with gratification for the uninterrupted 360 degree view that surrounded them upon their arrival at the summit.

Climbing the Sydney Harbour Bridge for our seniors was the epitome of what they represent in life and have been promoting for the NSW Seniors Festival. Conquering this challenge meant they were able to prove just how easy and accessible the Climb is for all who wish to follow.

To lead by example, they encourage likeminded Aussie's that no matter what your age, it's never too late to grow – to learn, to laugh and to be inspired. They aim to inspire NSW seniors to get out and engage with their community, express themselves, and share their own unique stories and experiences.

Ranging in age from their 60s to almost 90s, each ambassador has lived a full life, including BridgeClimb's very own representative, 87 year old Lloyd Poulton, who has climbed the iconic steel arches 115 times.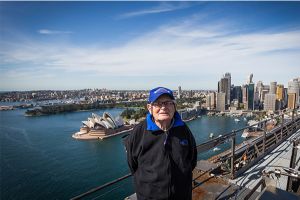 NSW Senior Festival Ambassadors reign from a variety of different backgrounds, some of who include:
Kumar Pereira is a household name in Australia after his performance on television series Masterchef in 2011. He has since published Kumar's Family Cookbook showcasing his excellent cooking and flavour combinations. Kumar is also involved in a voluntary capacity teaching low cost meals for the disadvantaged and seniors with disability.
Dr Rosemary Stanton is a trusted name across the country for promoting good health through food and nutrition. Rosemary has been awarded an Order of Australia Medal for her services to community health, and strives to change Australia's poor eating habits
Aunty Beryl Van-Oploo is known for showcasing flavours of the bush through her culinary adventures, and mentoring young Aboriginal people through their certificate in hospitality.
Vola Vandere has been entertaining audiences through singing and dancing since the age of seven. She has performed in 35 countries across the globe utilising her passion and talent for the performing arts.
Each and every ambassador triumphs the typical retirement stereotype that comes with age. Instead they celebrate being a senior through embracing newfound energy, experiences and proudly sharing their ability to know who they are, and what makes them happy.
LEARN MORE
To be inspired is great, but to inspire is incredible. It's never too late to book your Climb and be the one who sparks inspiration.