HEAR THE STORIES. SEE THE VIEW.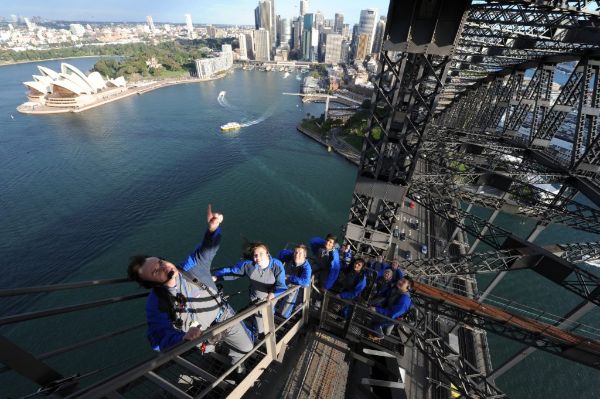 It's true - the view from the top of the Sydney Harbour Bridge is second to none. But what also makes BridgeClimb such a memorable experience are the stories you will hear along the way. From the harrowing tales of workers balancing atop the highest steel beams during the construction of the bridge, to stories of unique and courageous climbers from around the world conquering their fears, there are plenty of captivating stories our Climb Leaders will share during your climb. Here are some of the types of stories you might hear:

A Story of Iconic Scale. First opened in 1932, the Sydney Harbour Bridge is the world's largest steel arch bridge, sitting 134 metres above the sea. A feat of design and engineering, the Bridge is an internationally recognised icon around the world. Did you know the bridge has over six million rivets holding the steel plates together?
Tales of Brave Builders. Over eight years of construction, there were 1,400 men who worked on the Harbour Bridge – and the safety requirements were certainly not what they are today. Imagine standing on a narrow beam, 134 metres above the sea with high winds and no safety ropes, and catching red hot rivets in your steel bucket as they're thrown from your colleagues on the arch. Not for the faint of heart!

Memorable Climbers from Near and Far. BridgeClimb has welcomed over four million Climbers from around the world, each with their own story and reason for climbing the Bridge. We've seen romantic proposals and weddings at the summit of the Bridge, Guinness World Record-setting climbs, and even a 100-year-old Climber!

Superstar Storytellers - Climb Leaders. Our Climb Leaders are all amazing storytellers, each putting their own spin on their climbs so no two experiences are alike. Our passionate Climb Leaders are extremely knowledgeable about the history of the Harbour Bridge, and have plenty of quirky and fun tales to tell about what's gone on around the Bridge over the decades.

During your Climb, you're guaranteed to hear plenty of interesting and inspiring stories to complement the incredible views from atop the Harbour Bridge, and who knows... maybe you'll be the next memorable Climber to spark a new BridgeClimb story!

Hear the stories. See the view.