BridgeClimb Celebrates 10th Year Participating in Clean Up DaY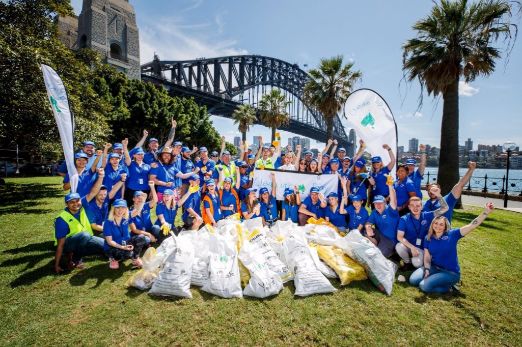 On 26 February 2019, over 50 BridgeClimb volunteers assisted in cleaning Sydney's harbour for this year's Business Clean Up Day as part of Clean Up Australia Day on Sunday, 3 March. This year marks Clean Up Sydney Harbour's 30th anniversary, the event that sparked Clean Up Australia Day the following year - the largest environmental event of its kind.
Assembling in Dawes Point, the BridgeClimb team removed over 50 bags of rubbish from the designated location - an incredible effort for the 30th Anniversary of Clean Up Sydney Harbour and legacy to the founder, the late Ian Kiernan AO. This year is BridgeClimb's tenth year with the initiative.
"I would like to thank BridgeClimb for their participation inBusiness Clean Up Day. It's great to see such a well-known business take aleadership role to drive environmental change. Remember, change starts withyou," said Managing Director of Clean Up Australia, Terrie-Ann Johnson.
According to Clean Up Australia, every Australian accumulates more than 2,700 kgs of rubbish a year – starting from the day we are born. Over 29 years, Clean Up Australia Day has been supported by 16 million volunteers cleaning up 350,000 ute loads of rubbish from more than 178 thousand locations across the country. The event is also recognised as one of the world's largest environmental campaigns spanning 130 countries.