Kurt Fearnley conquers the Sydney Harbour Bridge
This morning, 2019 New South Wales Australian of the Year, Kurt Fearnley, added to his extraordinary list of accomplishments by climbing the Sydney Harbour Bridge with his wife Sheridan.

The three-time Paralympic Gold Medallist, who has won marathons all around the world (including New York, London and Chicago) has a long list of exploits beyond wheelchair racing. In 2009, Fearnley made history when he crawled the Kokoda track and then in 2011, sailed on a winning yacht in the Sydney to Hobart Yacht race.

"It was a truly amazing experience to climb to the top of the Sydney Harbour Bridge," said Fearnley. "Reaching the summit with my wife Sheridan was an incredible moment, and one that I will never forget."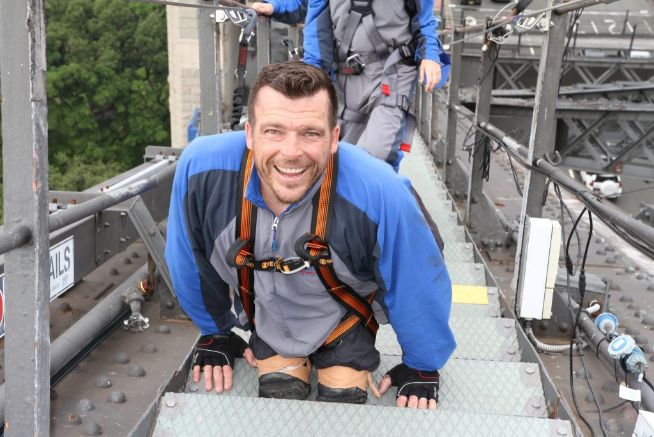 Fearnley is a passionate advocate for people with disabilities. Devoted to a number of national and Hunter-based charitable initiatives, Fearnley is dedicated to achieving greater access for the disabled community within the sporting field and beyond. As the recipient of The Don Award from Sport Australia Hall of Fame this year, the athlete was judged most likely to inspire the nation. By completing the BridgeClimb, Fearnley continues to break down barriers and inspire people all around the world.

"Kurt is a true champion and innovator within Australia," said Chris Zumwalt, CEO of BridgeClimb Sydney. "We look forward to collaborating with Kurt in the future, and using his invaluable insights to help make BridgeClimb a more accessible experience for all."

BridgeClimb worked with Fearnley over the last few months to prepare for his climb of the Sydney Harbour Bridge. Safety assessments and additional safety procedures were implemented above and beyond standard climbing for his climb.