Why we love climbing in winter
As tempting as staying indoors can be when the temperatures start to drop, we think winter shouldn't be a time for hibernation. Winter days in Sydney tend to be pretty mild and the sun is still shining most of the time. But if that's not enough to tempt you to leave your cosy sofa and explore the great outdoors, we've rounded up 5 reasons why we love climbing in winter:

1. The temperature is actually great for climbing: we all love Sydney summers, but we can probably all agree that the temperatures can get a bit extreme. In the colder months, the air is fresher and crispier but the sun is still shining – that's why winter is the ideal time for hikes, coastal walks and, of course, climbing the Coathanger!

2. You will get to experience breath-taking sunsets: Not only will your Climb depart earlier (to match the sun's earlier descent), there is also some science to the beauty of twilight at this time of year. Because the air is crisp and clear, it enables more light to travel through the atmosphere which creates vibrant shades of pink, purple and red as the sun dips below the horizon.
3. You can truly enjoy Sydney like a local: summer is the busiest time in Sydney, but when winter rolls in, the city quietens down and returns to its regular rhythm. If you're climbing in the off-peak months you will get to enjoy the city like a Sydneysider: when you descend from your Climb, stroll around the alleyways in The Rocks or score an outside table at one of Sydney's favourite cafés.

4. We'll get you all wrapped up: if you're concerned you may be cold climbing in winter, don't worry – we've got you covered (literally). In the colder months we will equip you with everything you need to stay warm. That includes a fleece, a beanie and even gloves, so you can make the most of the experience.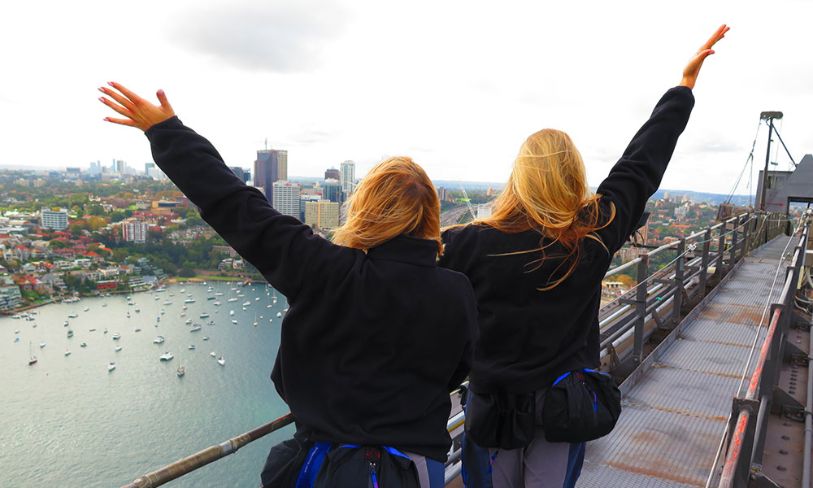 5. If that wasn't enough, this winter we're bringing back the Sunset Sessions: every weekend Twilight Climb in July and August will enjoy a sunset serenade at the summit. You'll get to watch the sun go down as you listen to an acoustic performance 134 metres above the sparkling harbour. Find out more about The Sunset Sessions here.

If you're interested in climbing in winter, visit our Climbs page to find out more about our different experiences.