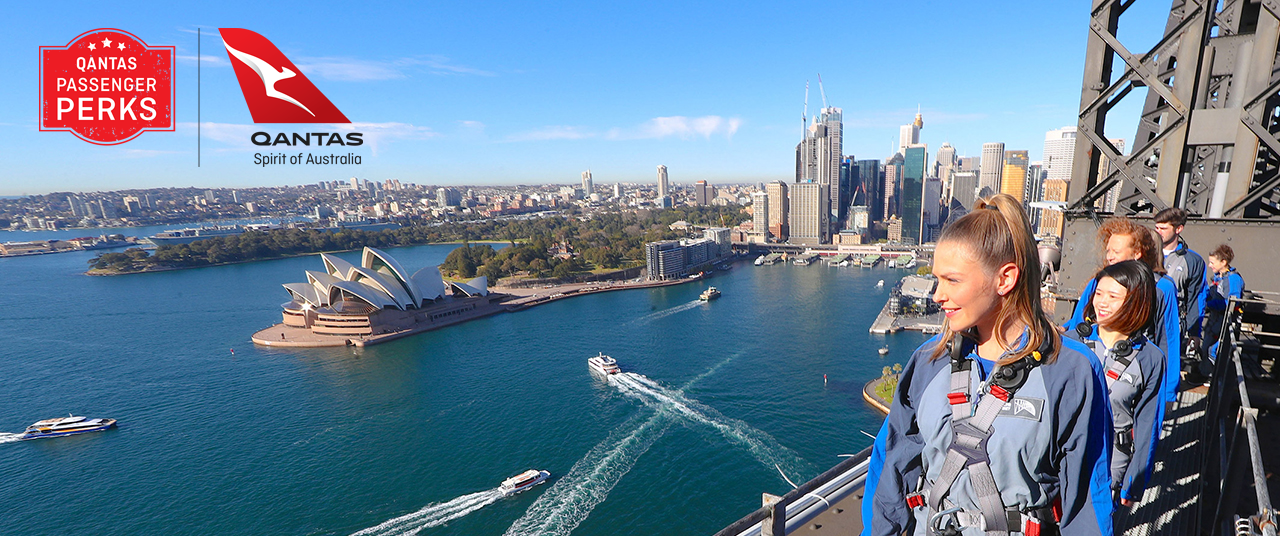 ---
Book your international flight into Australia with Qantas and unlock Qantas Passenger Perks – a selection of hand-picked deals on iconic Australian experiences. As part of our participation in this great program, BridgeClimb is happy to provide the following offer exclusively to Qantas passengers holding a valid Qantas Booking Reference Number.
15% off your bridgeclimb DAY experience
Experience the breathtaking 360-degree panoramic views of Sydney, whilst scaling the iconic Sydney Harbour Bridge during the day. Feel on top of the world as you journey to the peak of an Australian icon, soaking in the stories from your expert Climb Leader and the sights of the Harbour and the City skyline that surround you.
CONDITIONS OF OFFER
Offer is valid for Day Climbs only between 5 June 2023 and 24 December 2024 (excluding peak period*)
All Climbers will be required to provide proof of their 6-digit Qantas Booking Reference Number upon check-in at BridgeClimb. This Reference Number needs to be from a current international holiday (If this is not provided the discount will not be valid).
This offer does not apply to our Gift Voucher range
In order to receive the discount the BridgeClimb Booking needs to be made via the BOOK NOW button below with the discount automatically applied upon check-out when selecting a Day Climb.
*excluding departures during our peak period between 25 December 2023 to 3 January 2024 inclusive
Once booked, make sure you read our Pre-Climb Checklist and browse our Plan Your Visit pages for everything you need to know before you reach the Summit of the iconic Harbour Bridge.
VALIDILITY / ELIGIBILITY FOR QANTAS PASSENGER PERKS (QPP) EXPERIENCES
You can book 1 or more Qantas Passenger Perks offers if you are travelling between June 5, 2023 and June 30, 2024 inclusive on an international Qantas marketed flight(s) into Australia.
A Qantas marketed flight must contain the airline code QF (for Qantas) on the ticket. This includes flights booked via a travel agent; travel manager or online travel agent, as well as on qantas.com
For flights with one (1) international connection or more, at least one of the international flights must feature a QF number on the ticket.
Qantas marketed flights on Domestic routes within Australia are not eligible for this offer