First same-sex wedding atop the Sydney Harbour Bridge
1,000 Steps for Two Climbers, A Giant Leap for 'Equal-kind'
On Thursday 1st March 2018, history was made as the first same-sex couple married atop the Sydney Harbour Bridge.

Now joined together as partners, Warren Orlandi and Pauly Phillips, ascended the arches of the Sydney Harbour Bridge before dawn to join their family and friends for a day they won't forget.

As the pair took their first steps down the "aisle" for each other's hand in marriage, the sun peaked above the horizon to join in on the celebrations 134 metres above Sydney's sparkling harbour.

Hand-in-hand and ready to recite their vows, the loved-up couple were surprised with a live performance by singers from the Sydney Gay & Lesbian Choir, who sang "Marry Me" and "Together Wherever We Go" a fitting opening and closing to their special day.

The celebration was an ultimate demonstration of love, on an iconic scale, taking place 2 days before Sydney Gay and Lesbian Mardi Gras celebrates its 40th anniversary.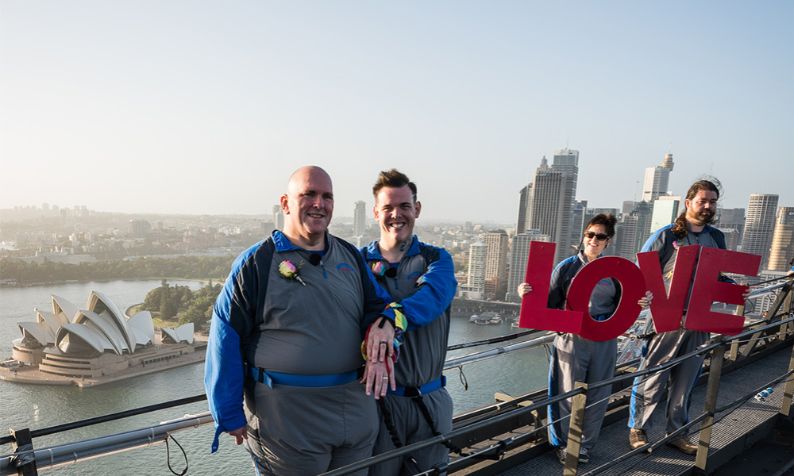 Celebrant Christopher North, who officiated the first same sex wedding on the Bridge said, "Celebrating love in such a breathtaking location is already magical. However today is especially meaningful, knowing the journey Warren and Pauly have taken and how the Sydney Harbour Bridge played such an integral role.

"This day represents something special for marriage equality in Australia. Warren and Pauly have made a legally recognised commitment to each other. The Bridge is a symbol that connects Sydney to the world. This is a celebration that everyone can be a part of."

Warren said, "The Sydney Harbour Bridge is truly special to us. We are incredibly humbled to be standing here as the first husband and husband married at its summit, representing a community who have travelled their own momentous journey for equality. Without their work, we would not be able to enjoy this day.

"Today's journey of more than 1,000 steps is one chapter of a much bigger journey for us finding each other and this is an unforgettable moment in a very special place that we get to share with our loved ones."

Pauly said "We're not a couple to follow the norm. Rather than a 'white wedding', Warren and I wanted something uniquely us and decided the grey would suit us much more."
Warren's love affair with the Bridge began more than four years and ten Climbs ago, when he weighed more than 370kgs. He had looked up at people climbing the Bridge, something that was then inconceivable for him, and set a weight-loss goal that changed his life in more ways than he'd expected.

He lost more 250kg through diet and exercise, reached his goal, the summit of the international icon, and wept with joy at his accomplishment.

A newfound self-confidence and enjoyment of life prompted a series of fortunate events leading him to meet his now husband Pauly, a fellow weight loss victor and to come out at 47 years of age.

BridgeClimb has hosted 29 summit weddings to date between mixed-sex couples, and has assisted in more than 5,000 proposals, many of which have been between same sex couples, but were delighted to host the first gay Bridge wedding on 1st March 2018.