Surprise Sky High Marriage Proposal
The glistening harbour was shaded by hues of orange, pink and purple as the sky transitioned from day to night; unbeknown to Enya, Sydney had surely set up one romantic backdrop for the moments ahead.

As the sun set behind the Blue Mountains to the west of Sydney, Henry took to one knee and expressed the ultimate devotion to his love and long-time girlfriend, Enya.

"Today, right here, the whole of Sydney is under us. We have known each other for 15 years, since middle school, and today is our anniversary. I promised you a new life here in Sydney, and now Yang Weiyan [Enya], will you marry me?"

The couple climbed hand in hand together through the heart of the Bridge with family and friends in tow, excited for their BridgeClimb experience ahead and obligatory summit celebration; a celebration for Enya that unknowingly ended with a sparkling diamond ring, the words "I do", and one spectacular twilight view.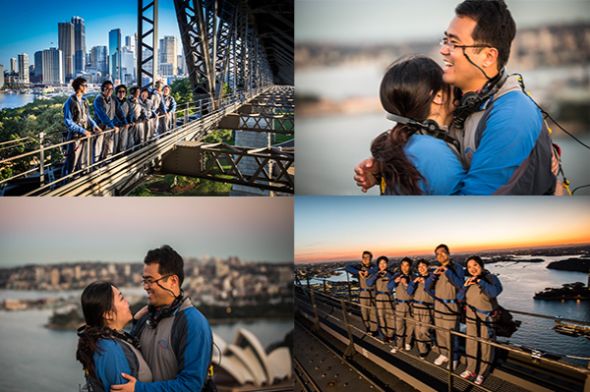 FIND OUT MORE
Considering involving the Bridge in your very special moment? The Bridge has been the foundation for over 5,000 engagements; we hope we can help create the perfect surprise for your loved one. Read more on how to propose at the top of the Bridge here.