Top 10 Sydney hotels with the best views of the Harbour Bridge
Looking for accommodation inspiration in Sydney? Follow our guide for the city's top hotels with the best views of one of Australia's most famous icon, the beautiful harbour and for a guaranteed good night sleep.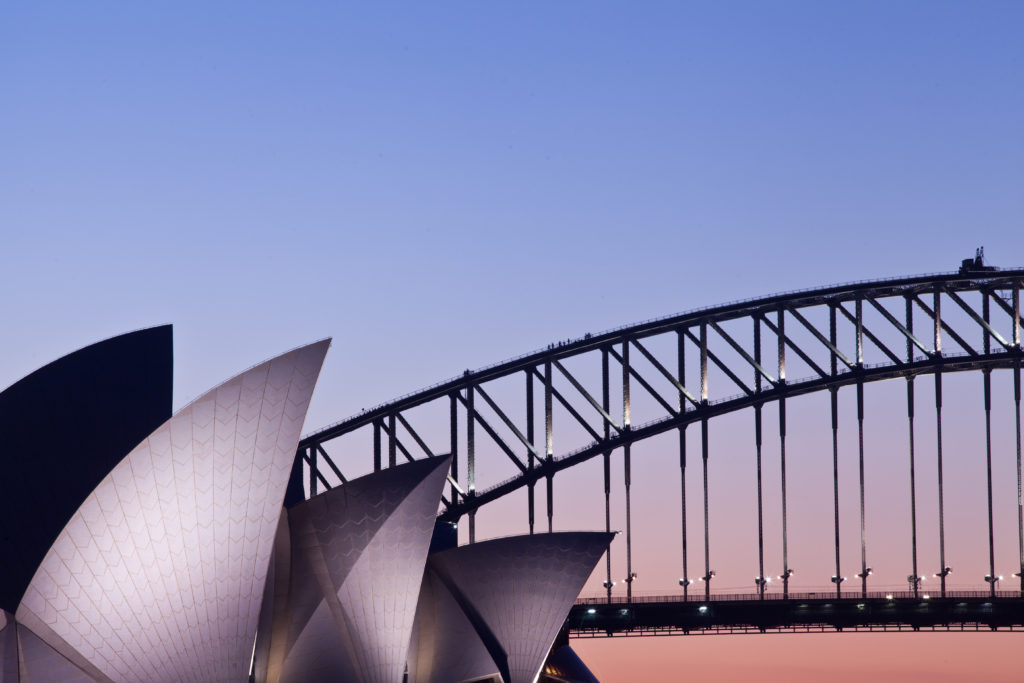 Of course the best seat in the house for seeing Sydney shine it's best is up on the arches with BridgeClimb Sydney! On the most fabulous of days, 134 metres above the sparkling Harbour, those 360-degree views from the Summit are uninterrupted spanning as far as the Blue Mountains, 83km west from the CBD, to the Pacific Ocean where you can catch a glimpse of Sydney's infamous Bondi Beach, east of the CBD.

If you're like any of us at BridgeClimb, who'll do anything for a view - like even climb to the very top of the Sydney Harbour Bridge daily! - Then you'll probably appreciate the secret and not-so-secret Sydney hotel options where you can enjoy a picture-perfect glimpse of the Harbour Bridge and Sydney skyline from afar too.

We know it can be hard to take your eyes off her, so that's why we've rounded up some of our favourite hotels in the city with the best views looking over the Sydney Harbour Bridge for your next romantic getaway or staycation in town. We've also included some top hotels deals and tips you don't want to miss!
1. InterContinental Hotel Sydney
117 Macquarie St, Sydney NSW 2000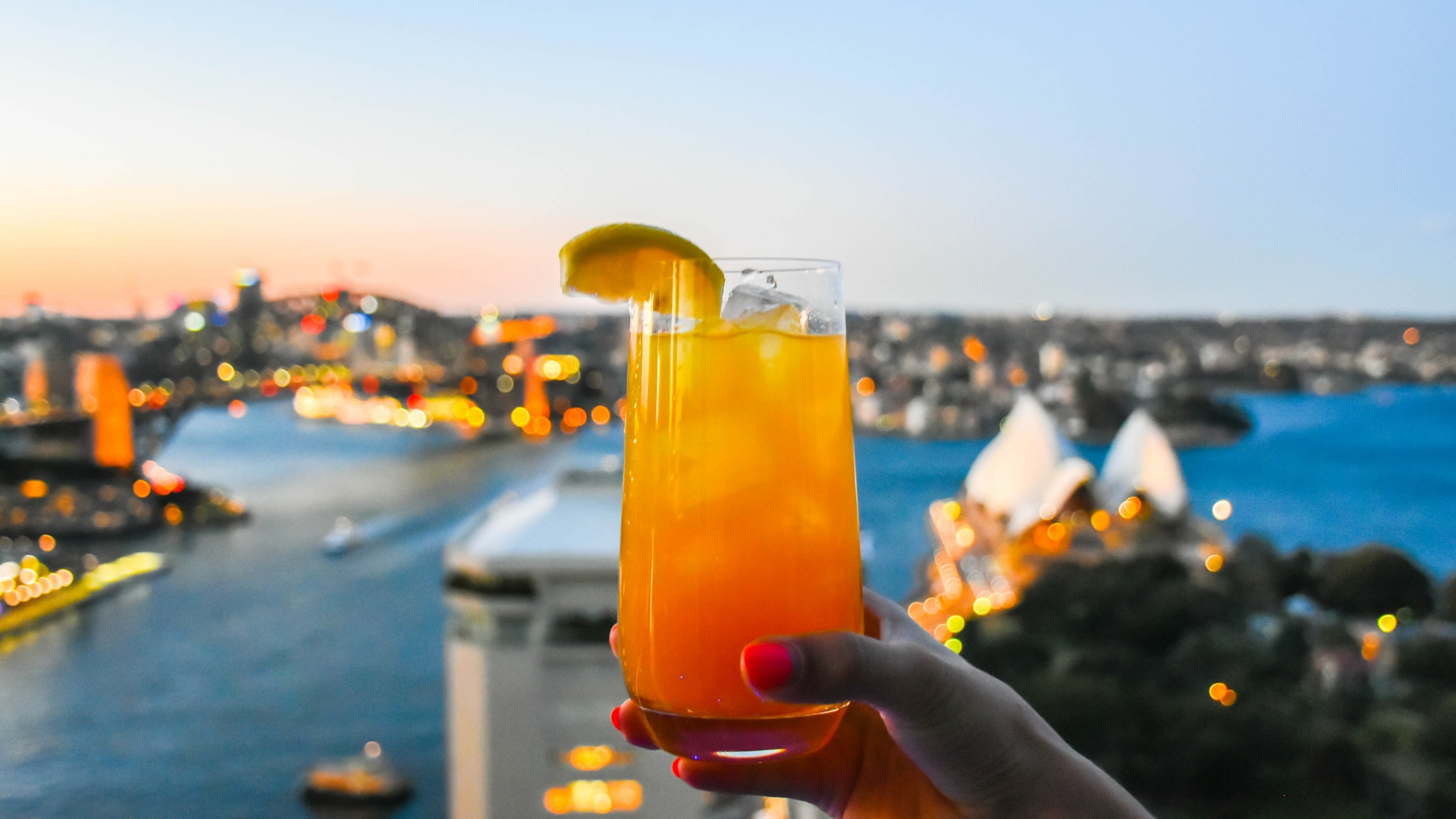 For a luxurious stay in Sydney, we suggest a sleepover at the InterContinental Sydney where after your incredible climb to the top of town, you can continue the gazing from rooms offering window views of the Eastern Harbourside, the Bridge you just conquered or the Opera House sails. The Five Star hotel is housed in the beautifully restored Treasury Building dating back to 1851, and from the moment you step in the doors, you'll feel the grandeur of 19th-century history.

The InterContinental Sydney has an indulgent Weekend Special which includes daily buffet breakfast for two in Cafe Opera and a late check out at 4pm. Also 31 levels up of the InterContinental Sydney, you can't afford to miss the lounge terrace, which is the perfect spot to cheers to your romantic weekend in Sydney. The InterContinental Sydney reopens Fri 31 July 2020 and is accepting bookings now.
2. Sydney Harbour YHA

110 Cumberland Street, The Rocks 2000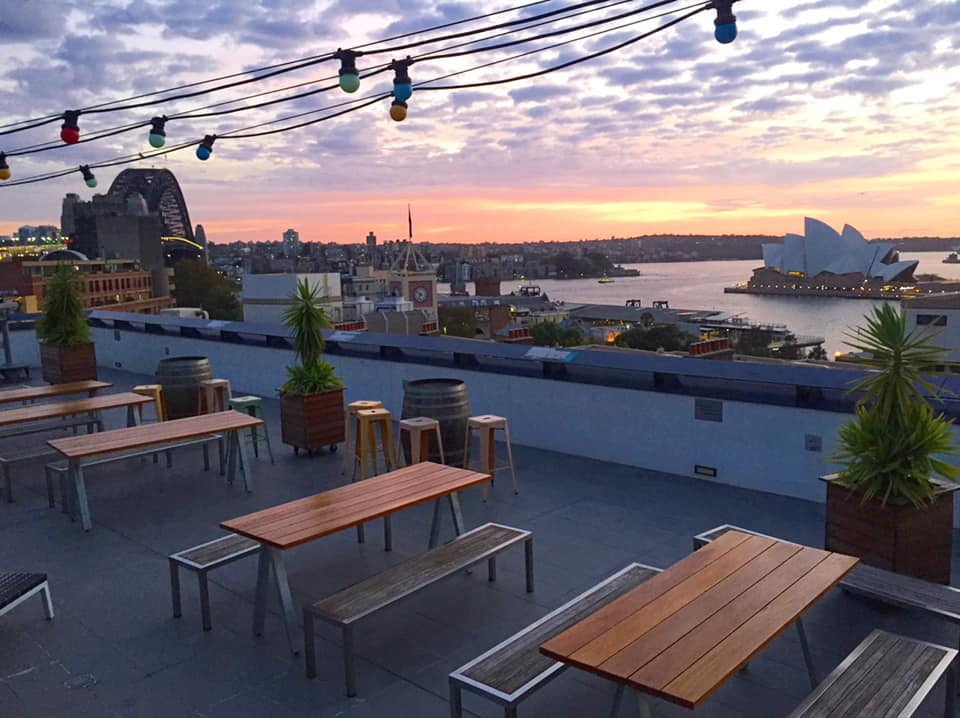 A stay at YHA in The Rocks is a secret budget-friendly gem close to The Rocks action. It's built above an archaeological site with remnants of old Sydney and when you venture up to it's rooftop, it's home to stunning panoramic views of Sydney Harbour, Opera House and Harbour Bridge. This is a great accommodation choice for backpackers or those looking for budget friendly accommodation in The Rocks.
Right now Sydney Harbour YHA is offering a great value accommodation offer in Sydney that includes a 5 night stay in dorm rooms or private accommodation with daily breakfast from AUD $145 per person.
3. Shangri-La Hotel Sydney

176 Cumberland Street, The Rocks NSW 2000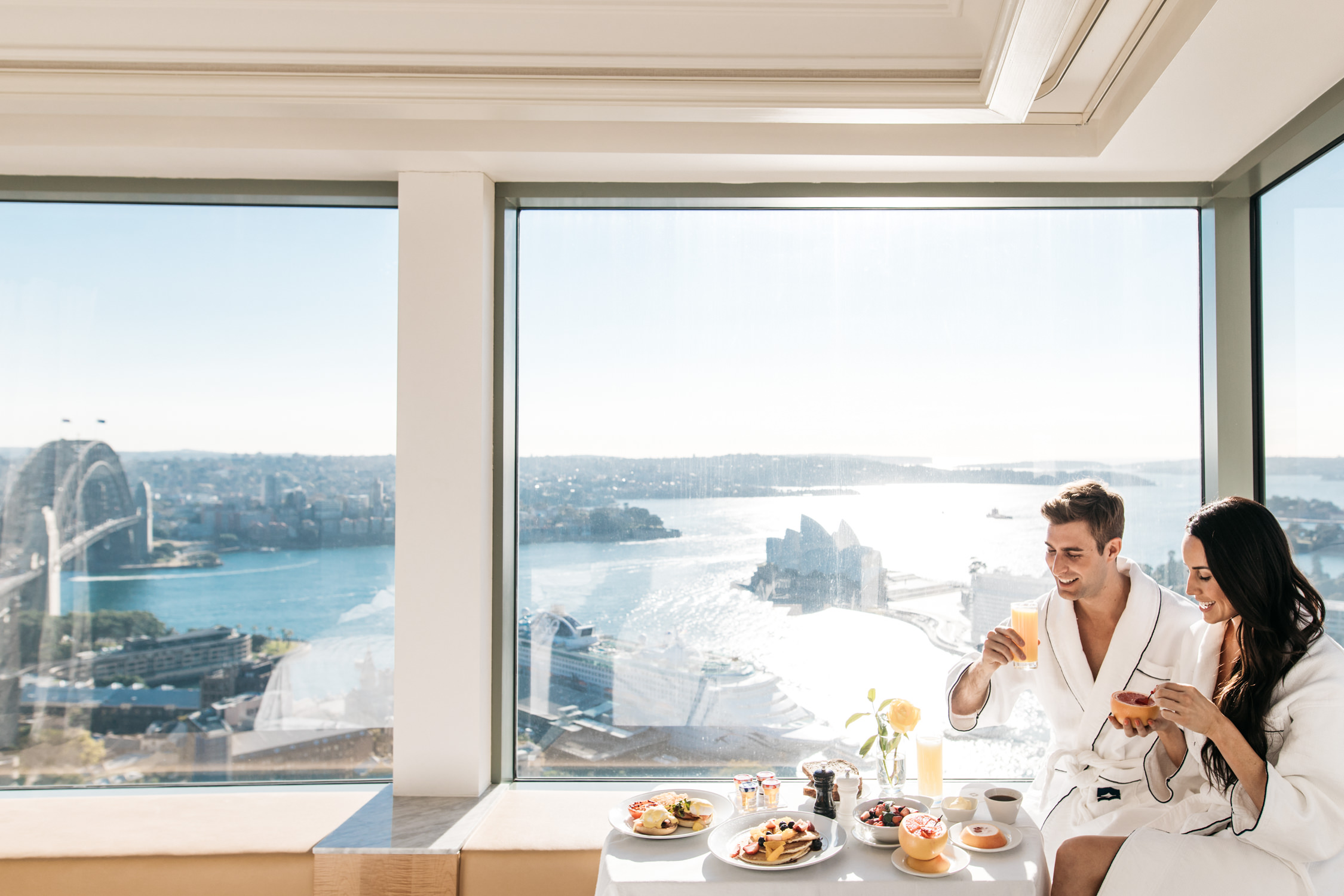 If you're looking to score some brownie points on a romantic Sydney weekend, we recommend booking a stay at the Shangri-La Hotel Sydney with none other than a room with panoramic views of Sydney Harbour.

It's only a short walk from the BridgeClimb premises and the hotel offers a great Drive-In Package for out-of-towners or locals keen for a Sydney weekend escape. After dinner, our top tip is to b-line straight to the Blue Bar on 36 for a nightcap and to finish the day soaking in one of the hotel's cosy and luxurious bathtubs. Add in some bubbles and bubbly to the mix, and it'll be hard to be disappointed here!
4. Park Hyatt Sydney
7 Hickson Rd, The Rocks NSW 2000
If you care for 5-star luxury hotel harbourside living when you visit Sydney, you'd better book a king-sized room at the Park Hyatt Sydney. The hotel is known for A-list celebrity sightings, butler service and doorstep views of, you guessed it - our beloved Sydney Harbour Bridge and the Opera House sails. Seriously amazing! When you hang out on the lounge rooftop, don't be shy to wave a hello to some BridgeClimbers making their way up to the Summit too.

For a romantic Sydney getaway, look into quality time for two with adding on the Park Hyatt romance package. It includes sophisticated beck-and-call service, with chilled French Champagne and hand-made chocolate truffles on arrival. They'll handle it all with compliments of wine and dessert to share at The Bar, followed by a leisurely breakfast in the breathtaking Dining Room and naturally a late 1pm check-out with valet if you drive in.

5. Pier One Sydney

11 Hickson Rd, Walsh Bay NSW 2000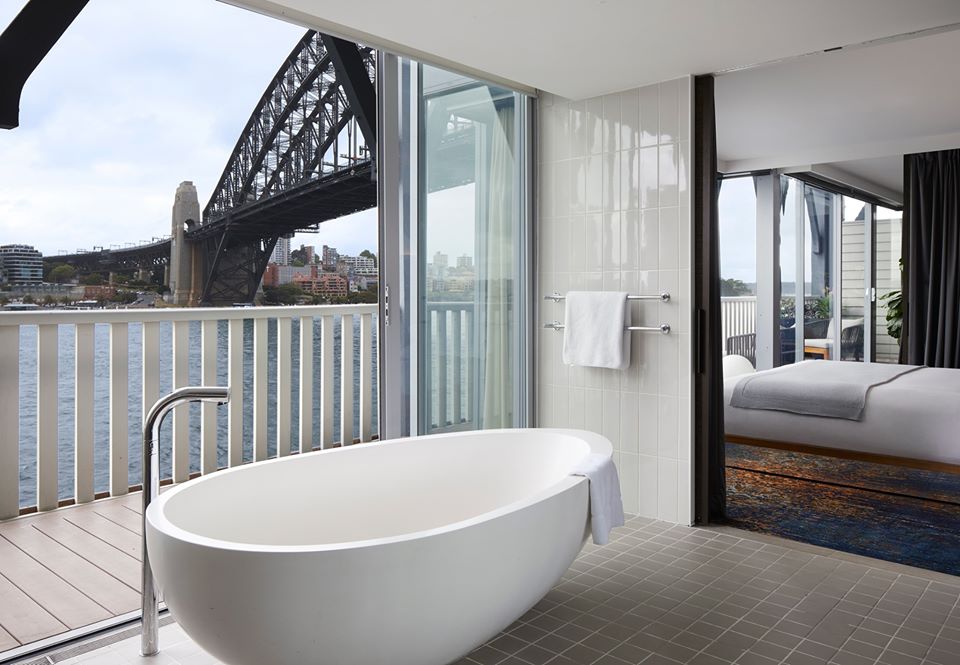 Another waterfront stay in The Rocks neighbourhood, nestled right under the Harbour Bridge wing is Pier One Sydney. No two suites are the same here, so you're guaranteed a very unique 5-star stay. A winner in our eyes has to be the Pier One Hotel Puppy package where you can reserve a getaway for two - you and your pup! It includes tail-wagging perks like a comfy dog bed, treats awaiting as well as a mini-bar and dog-friendly menu service. You can also secure an epic WFH, that's work-from-hotel office space with killer water views, treats and high-speed wifi any time from 6am-6pm. For when you want to treat yourself and get away from home distractions an office staycation at Pier One will set you back at AUD$129.
6. four seasons hotel sydney
199 George St, The Rocks NSW 2000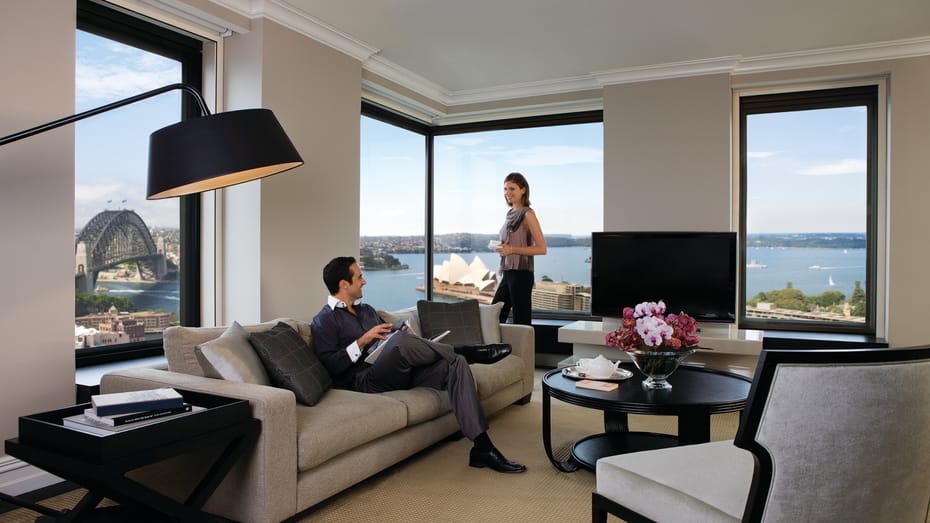 In every season, we recommend calling the Four Seasons Hotel Sydney home for a weekend Sydney staycation, you can kick back and relax in sophisticated comfort, while staying close to the Sydney Harbour action.

Our top tip with a romantic Sydney getaway in mind is to upgrade your 5-star hotel stay with a deluxe romantic getaway package. The upgrade includes a designated room with a Sydney Harbour view (if you ask nicely!), a fancy bottle of bubbly, treats, a signature Four Seasons Hotel breakfast delivered to your room and a late check-out at 2pm. Just like in the movies!
7. Pullman Quay Grand Sydney

61 Macquarie Street, Sydney NSW 2000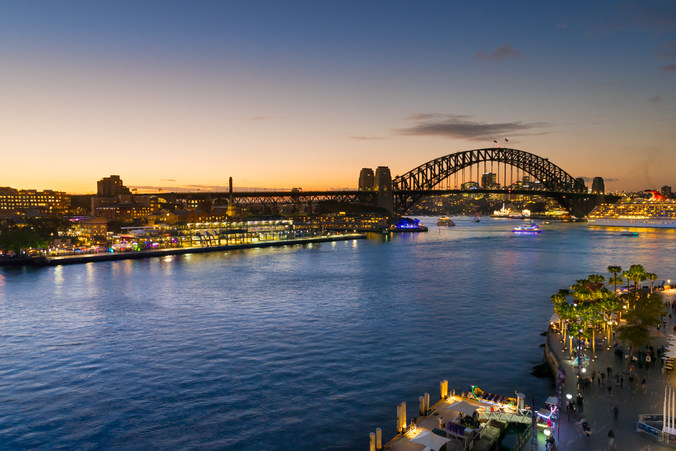 A stay at the Pullman Quay Sydney Harbour is nothing less than a grand ol' time with spectacular views of the Harbour Bridge delivered to your hotel room. You'll probably need to pinch yourself before you mistake the luxurious views from your hotel window for a desktop saver. No other hotel in the Sydney CBD has this angle of Sydney Harbour Bridge front-on, so count your lucky stars!
Make sure to pop by for a drink at the hotel bar, Hacienda Lounge inspired by 1950s Miami glamour, and tuck into their signature cocktail list with South American inspired nibbles designed to share with good company.
8. Marriott Sydney Harbour at Circular Quay

30 Pitt St, Sydney NSW 2000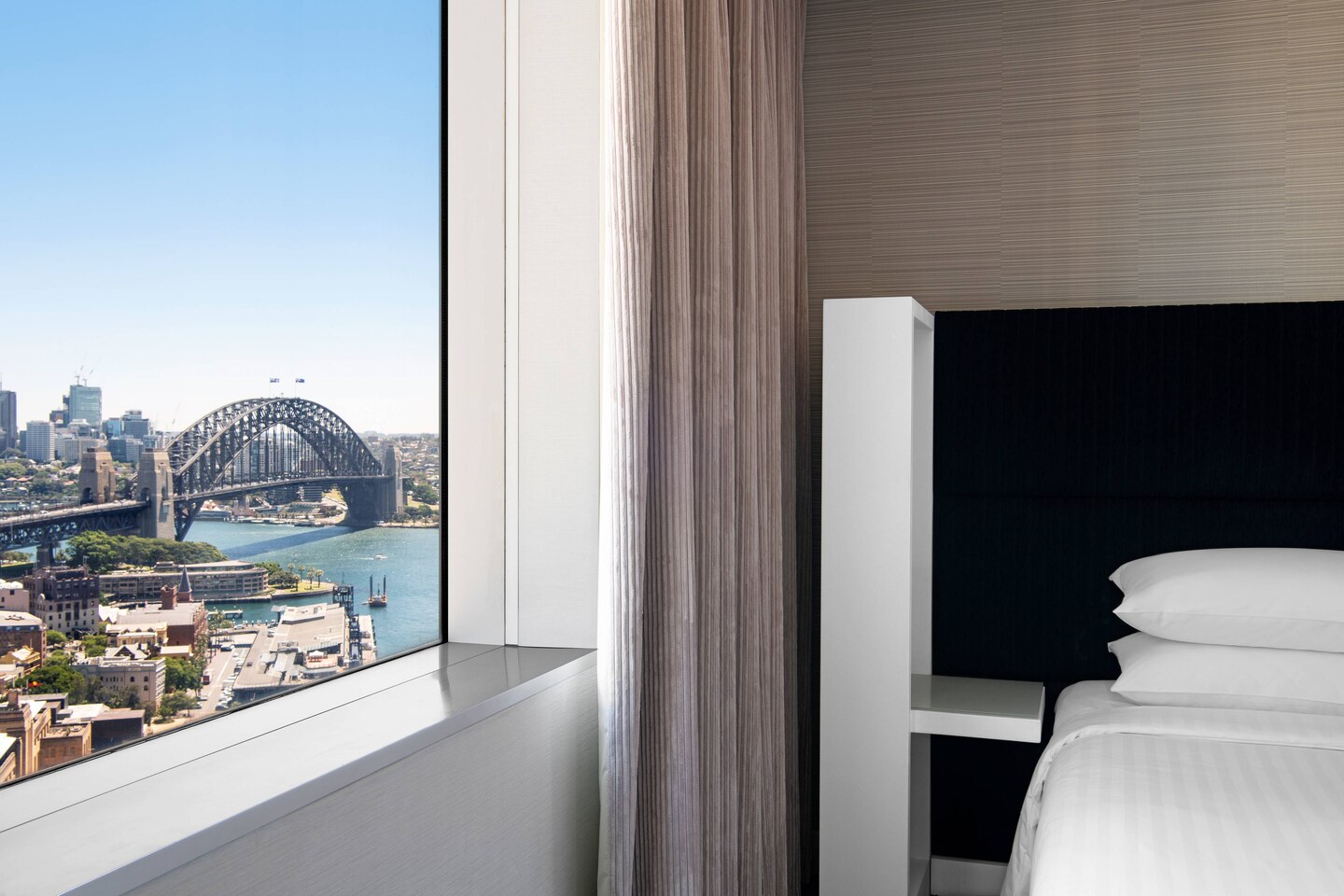 You can spot the Marriott sign towering over the Sydney CBD from a mile away, which means you bet you'll get some pretty sweet views of the Sydney Harbour Bridge from sleek, spacious contemporary-style rooms. The hotel has recently undergone a lavish multi-million renovation of the Greatroom (aka the foyer) which is an inviting space with ergonomic workstations for busy corporate travellers.
But don't worry, it's not all business, the Marriot Sydney Harbour at Circular Quay currently has a deal for family stays that includes valet parking, buffet breakfast for two adults and two kids as well as a late checkout! Perfect for a family weekend getaway, add on the Family Package Plus. The hotel is also a delicious dining scene, choose from a hatted restaurant called Silvester's, a laneway drinking den called Three Bottle Man or the historic hotel bar Customs House Bar. There is something for whatever mood takes you fancy.
9. The Sebel Quay West

98 Gloucester St, The Rocks NSW 2000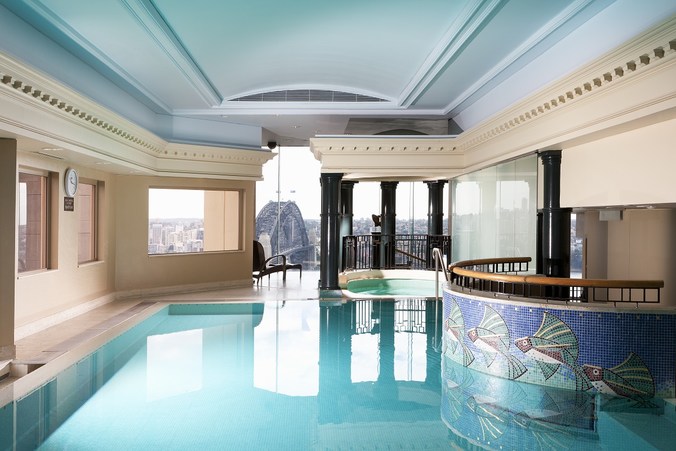 What is better than a hotel room with a Sydney Harbour view? A level 24 pool with sweeping Sydney Harbour views found at a stay at The Sebel Quay West. This place boasts stylish apartment-style hotel rooms fit for families, couples and those travelling on business.
If you decide to dine in at your stay, you have to try the signature Chorizo Linguine dish which is a recipe served by Head Chef Matteo Bisori from The Quartier Bistro & Bar. If you're in town from Tues-Sat, you can even grab it at a $20 lunch special with a glass of house wine or beer - you're welcome.
10. The Langham Sydney
89-113 Kent St, Millers Point NSW 2000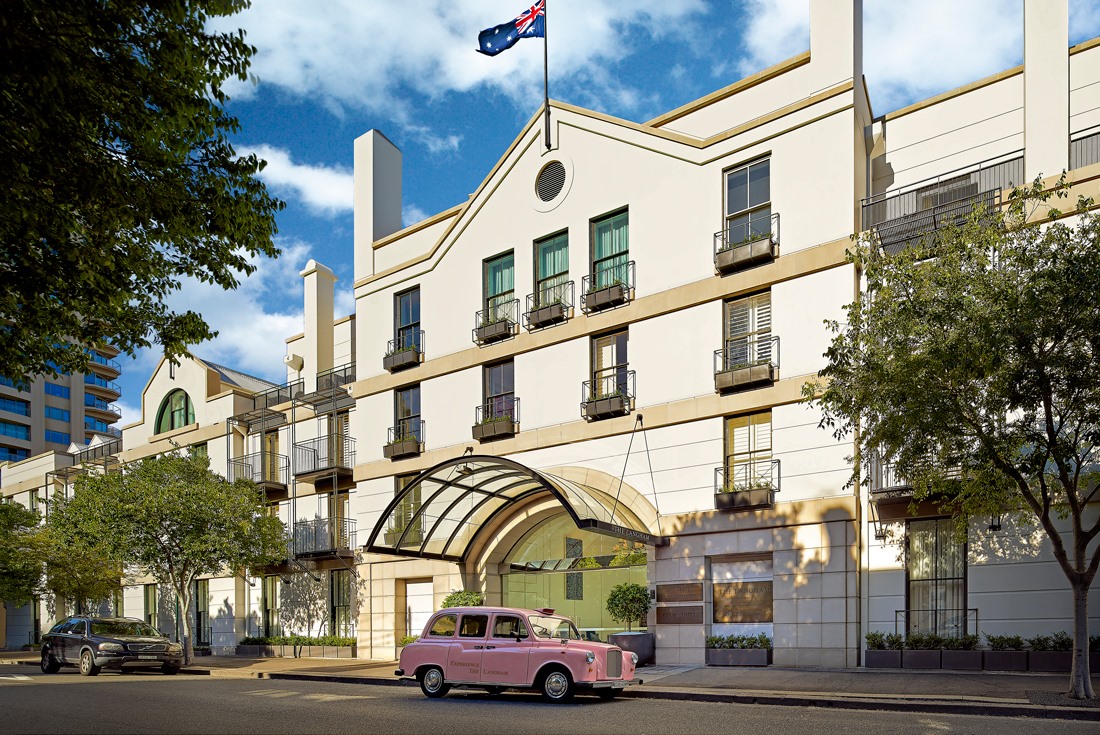 Finally, a stay at The Langham Sydney would make for an elegant choice, tucked away in the quaint cobbled streets behind The Rocks. But don't let the hotel's unassuming location fool you, The Langham is popular amongst brides who frequent the magnificent indoor heated pool complete with jacuzzi and steam rooms at the Day Spa by Chuan. We highly recommend heading here to relax and rejuvenate after your BridgeClimb!
For ultimate couple indulgence, maybe surprise your significant other with a romantic couples spa hotel package? It includes a 1 hour and 30 mins combined back plus head massage with some VIP-service delights, available at a special for AUD$390. Tell them, we sent you!
We loved sharing some of our favourite hotels in Sydney with the best views looking over the Harbour Bridge and hope we've helped inspire where to stay for a romantic staycation or getaway. Follow us on Facebook and Instagram and tell us how you spoiled your significant other.
BridgeClimb is registered with the NSW Government as a COVIDSAFE business
For more information on social distancing practices by featured partners, we advise to enquire or visit their websites directly.
BridgeClimb is a safe place to visit, work, and operates with social distancing practices in place.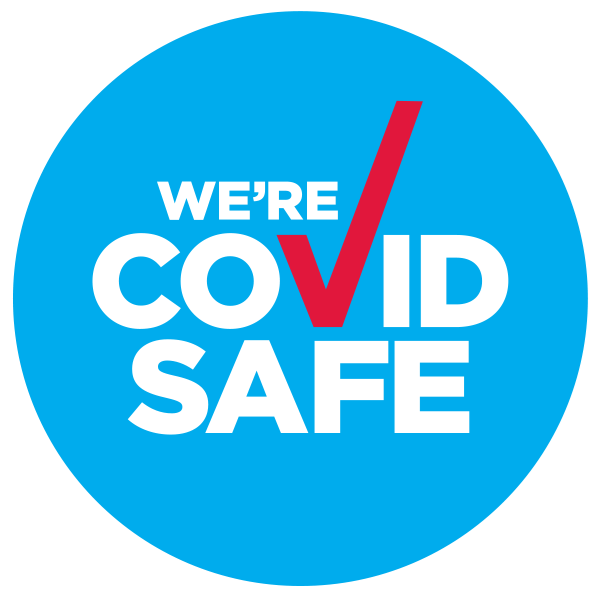 We're pleased to let you know we are registered with the NSW Government as a COVIDSAFE business. From 27 June 2020, we are operating with socially distant small Climb groups. We have increased cleaning schedules across the entirety of BridgeClimb with ongoing sanitisation completed within the Climb Base, and throughout our customer's pre and post-climb journey. If you are feeling unwell before a climb, please inform the BridgeClimb Contact Centre in advance to discuss a reschedule.