Top 5 unique BridgeClimb Events
Planning an event like no other? With one of the most iconic landmarks around the world at our doorstep, holding an event at BridgeClimb is always bound to grasp attention.

Here is a list of our top 5 most unique BridgeClimb events, bound to inspire your next corporate group outing:
1. Incentive Group Events
Fear not! Hosting groups of all sizes and with varied requirements is our speciality, having welcomed teams from organisations that hail from Australia and all over the world. Groups from Sony Music, Redbull, Westpac, Woolworths, Guess, Google, Microsoft, Amway, and American Express have all climbed the Bridge.

In March 2016, Nu Skin China brought 4,000 of their top sellers on an incentive schemed holiday, becoming the largest group booking ever received at BridgeClimb. This BridgeClimb feat proves no challenge is ever too big!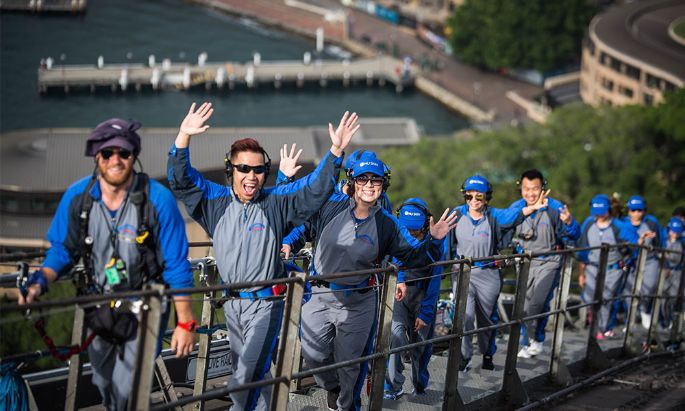 Nu Skin breaks record for largest corporate group to climb the Sydney Harbour Bridge March 2016
2. Canapé Climb
We make scaling the Sydney Harbour Bridge a truly unique and unforgettable experience by celebrating at the summit with delicious gourmet canapés. BridgeClimb developed this Climb to provide event planners an experience which is guaranteed to impress important clients or appropriately reward top performing staff. Read more about this experience here.
3. Adapting to Business
We can present the BridgeClimb as a business case study, as we have done previously for UNSW Business School. In 2015, a group of NYU Stern School of Business students were invited to experience a tailored BridgeClimb event, including a group Climb and business presentation in our private cinema space.
4. The Vivid Climb
To celebrate Vivid Sydney, our Vivid Climb features a unique light installation placed at the summit for Climbers to enjoy. Our Vivid Climbs' are a unique team building opportunity, or a creative and impressive way to entertain your clients.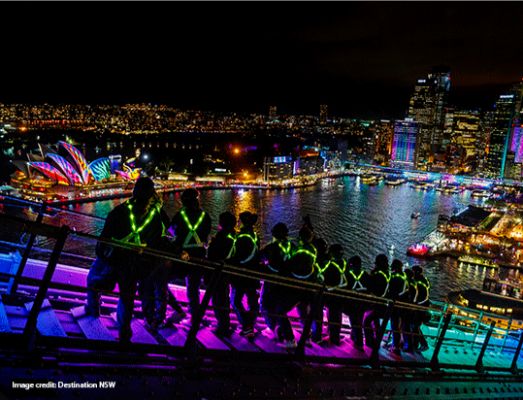 5. Chinese New Year
To launch the Mandarin Climb, and in the lead up to Chinese New Year, a traditional Lion Dance was performed on the summit of the Bridge in 2013: read more here.

This was followed in 2014 with a 15 metre Chinese Dragon which scaled the eastern arch of the Bridge: watch here.

In celebration of the Lunar New Year in 2016, we hosted six water drummers who performed a special drum ceremony, as fireworks burst above the Sydney Opera House:
These events showcase how BridgeClimb can host a truly unique event on the Bridge.

We have a group of talented professionals readily available to help develop a tailored event suitable to your company's core values and objectives. If you want to find out more about how we can tailor an experience for your next team event, read more here or get in touch with our team here.