Vix Verify team building Climb
BridgeClimb Sydney was delighted to welcome the team at Vix Verify who took part in a team building activity and completed the 2.5 hour BridgeClimb Express, journeying through the heart of the iconic Sydney Harbour Bridge all the way to the summit. Post-climb, we caught up with the team to find out how they got on!

What did you think of the experience?

All the team members were so impressed with the ease and smoothness of the Climb. Everything is explained thoroughly and you are given opportunities to ask any question at multiple intervals. We enjoyed the group atmosphere and our guide was very helpful and knowledgeable about Sydney and the Bridge. We all had a great time!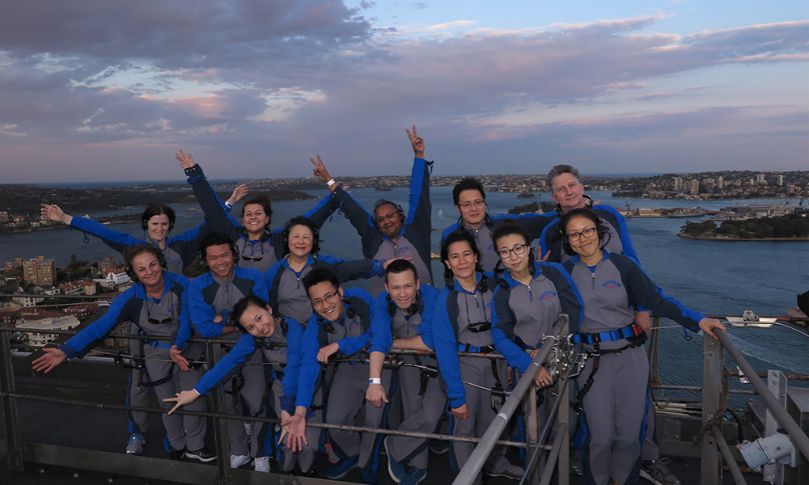 What was your favourite part?

The best part of climbing the Bridge would be the knowledge we gained and the information from the guide. There were so many things that we didn't know about the history of the Bridge and indeed the surrounding area. And, of course, the view!

We had a great climb time which meant we got to view the end of the day and see the beginnings of the sunset also. This gave a great variety of views over the Sydney Harbour on the way up, and down.

Why did you choose BridgeClimb for your company activity?

BridgeClimb is close to our offices and something that most Australians have never had the chance to experience. We have a varied team of which many appreciate the opportunity to do something different. BridgeClimb Sydney caters well for groups and is a once in a lifetime experience!

Would you recommend BridgeClimb to other organisations and it so, why?

I would recommend the BridgeClimb to other organisations as it is a great chance to give people the opportunity to do something they may never otherwise do, and is a great way to foster group bonding and communication while on the climb, and when looking back on the experience afterwards!
QUICK FACTS:
Name of event: VIX Verify
Type: Team Building
Product: BridgeClimb Express
Attendees: 15 PAX
Date: 13 September 2017