WHAT TYPE OF CLIMBER ARE YOU?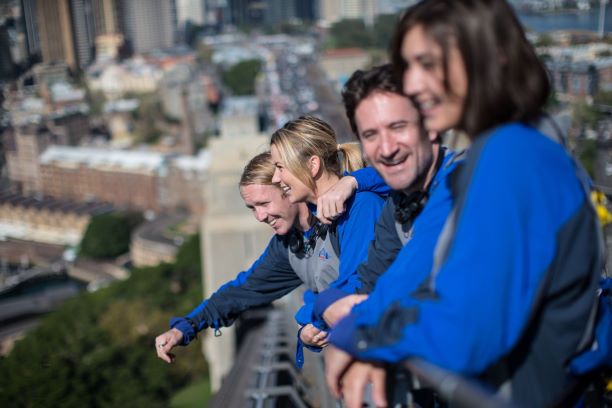 At BridgeClimb, we see hundreds of climbers make their way up the Sydney Harbour Bridge every day. And while every person has their own reason for climbing, we've noticed a few patterns! What type of Climber are you?

The Bucket Lister. You've walked the Great Wall of China… you've visited the Taj Mahal… you've made it to the top of the Eiffel Tower… and now you're ready to climb the Sydney Harbour Bridge! Bucket Listers know you can't visit Sydney without climbing to the top of the iconic steel arches.

The Historian. You love a good story and can't wait to discover the rich history of the Sydney Harbour Bridge. Even the biggest history buffs will learn something new from our expert Climb Leaders, whose commentary includes interesting historical facts and captivating stories about the bridge and the people who built it.

The Conqueror. Heights are not your thing…but you're ready to face your fear! Our Climb Leaders will help you muster the courage to overcome your acrophobia, and support you every step of the way. Don't underestimate yourself – you'll be surprised at what you can accomplish.

The Reluctant Plus-One. Your friend wants to climb the Sydney Harbour Bridge…and you'd rather be at the pub. But you're along for the ride and trust us, it's worth it! You'll be amazed by the sheer size of the iconic bridge, the incredible 360 degree views, and the countless stories you'll hear along the way.

The Insta-Climber. You have an awesome Instagram feed… and your followers want to see more! Rack up the likes with your photo on top of the Harbour Bridge featuring a stunning backdrop of the Opera House and Sydney Harbour. And don't forget to tag us! @bridgeclimb

The Celebrator. You have something truly special to celebrate, a monumental moment in your life and you want to celebrate it with a monumental experience. Whether it's a birthday, anniversary, engagement or something else, BridgeClimb is that once-in-a-lifetime experience that makes any occasion a memorable one.

Whatever type of climber you are, we can't wait to see you on the Bridge!