Valentine's Day Experience Gifts For Her & Him
Looking for a unique Valentine's Day gift, or the perfect way to celebrate this special day with your loved one? We've got this.

Valentine's Day gifts can be hard to buy, especially if you want to surprise your loved one with something more extraordinary than the usual roses and heart-shaped chocolates.
HOW TO PLAN THE PERFECT VALENTINES DAY
We've made it easy for you to plan the perfect day by packaging our Climb with some amazing experiences. Not sure what to pick? Buy a Gift Voucher and let your Valentine decide!
Your Valentine's options:
Explore our Valentine's Day experiences below, which are sure to score you extra brownie points with your significant other.
A BRIDGECLIMB GIFT VOUCHER FOR THE IMPOSSIBLE TO PLEASE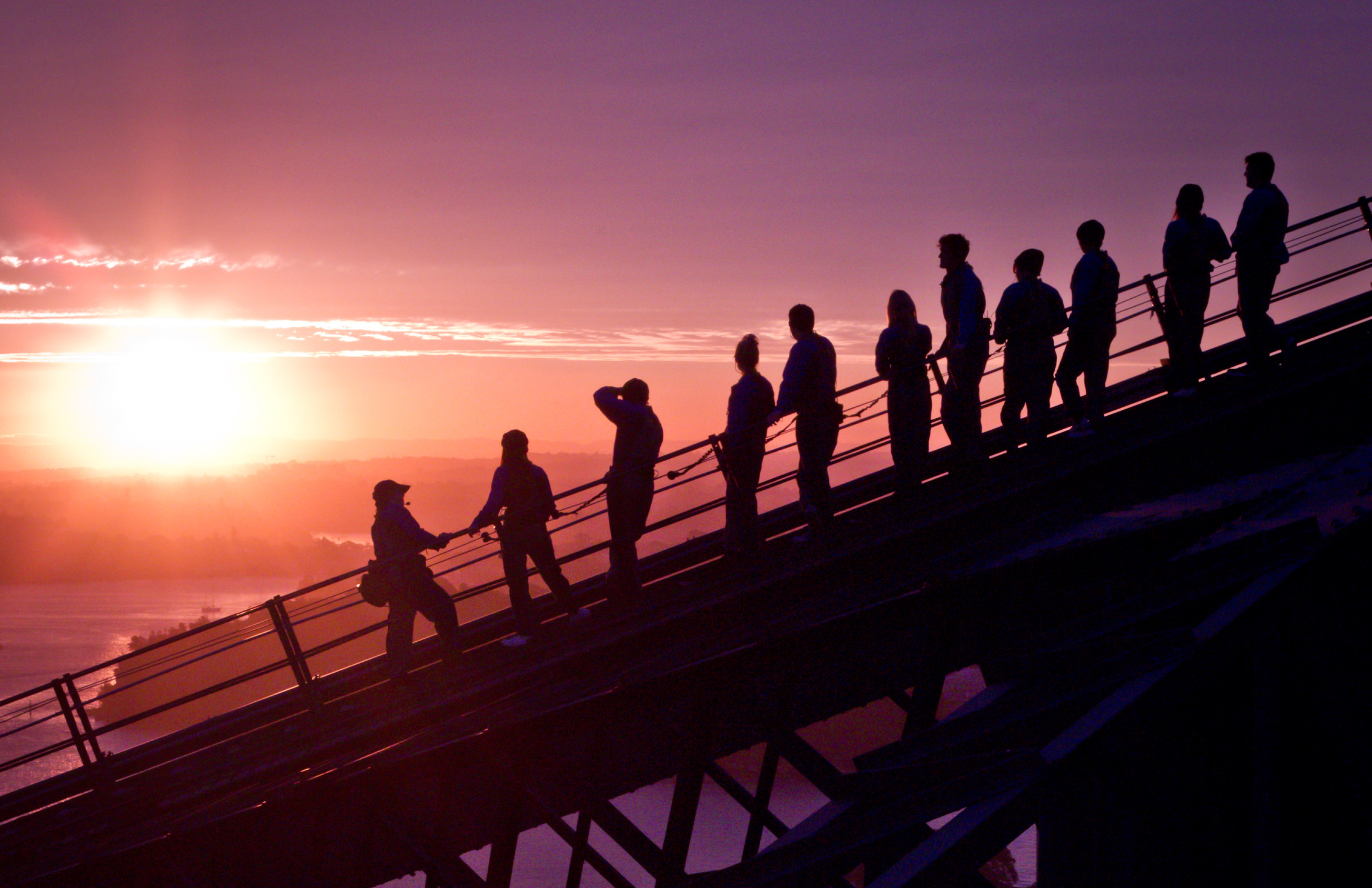 Gift a BridgeClimb for a truly unforgettable Valentine's Day. We have a range of easily personalised gift vouchers available as Valentine's Day gifts, all valid for three years from the issue date so you have plenty of time to use them.
take love to great heights with a twilight climb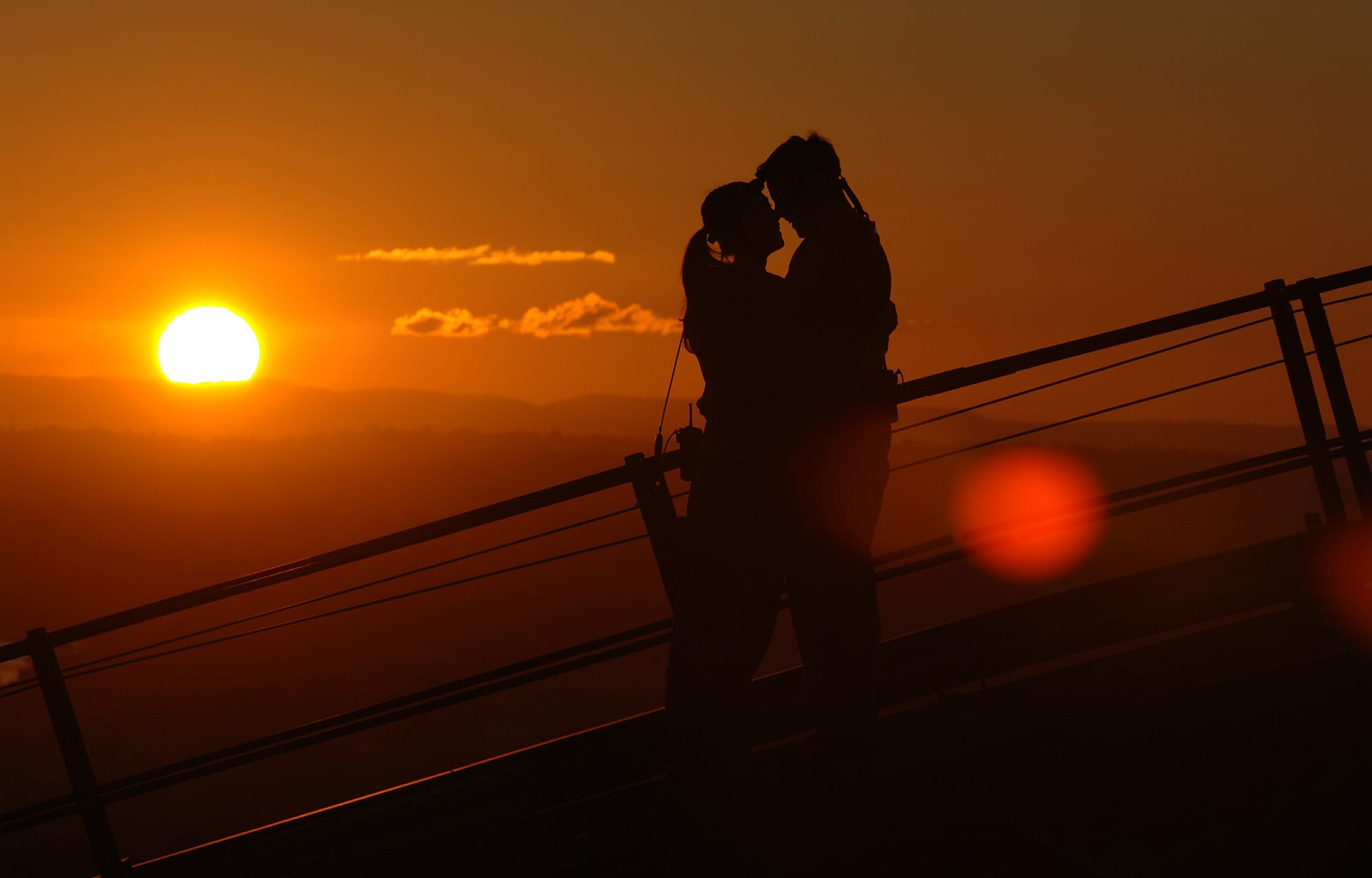 Nothing says romance like a Climb during the sky's most picturesque hours. Watch the colours of the sky melt into the evening, and see the city lights come to life. Enjoy this special time of day on the most romantic day of the year. It's magical!
All Twilight Climbers will also receive a special chocolate treat from our friends at Darrell Lea!
Dial-up the romance with a climb & luxury picnic
Make unforgettable memories together whilst soaking in the unmissable views of the Sydney Harbour with a BridgeClimb. After your Climb, you can then enjoy a beautifully prepared luxury picnic, gazing back at the iconic Bridge you just conquered together.
POP THE QUESTION IN STYLE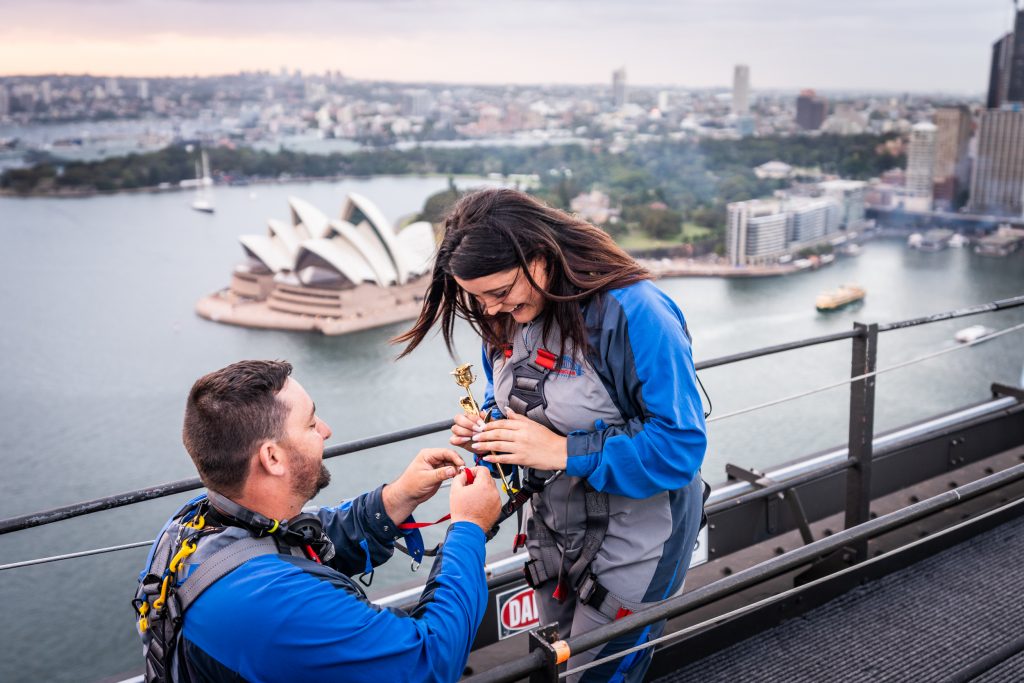 Propose to your partner in the most unique and spectacular location. BridgeClimb has witnessed over 5,000 marriage proposals, from tourists dropping a knee far from home, to local couples keen to put a (safely secured!) ring on it 134 metres above Sydney's sparkling harbour. Let us help with all the details so your proposal is both incredible and personal.
sAY "I DO" WITH A VIEW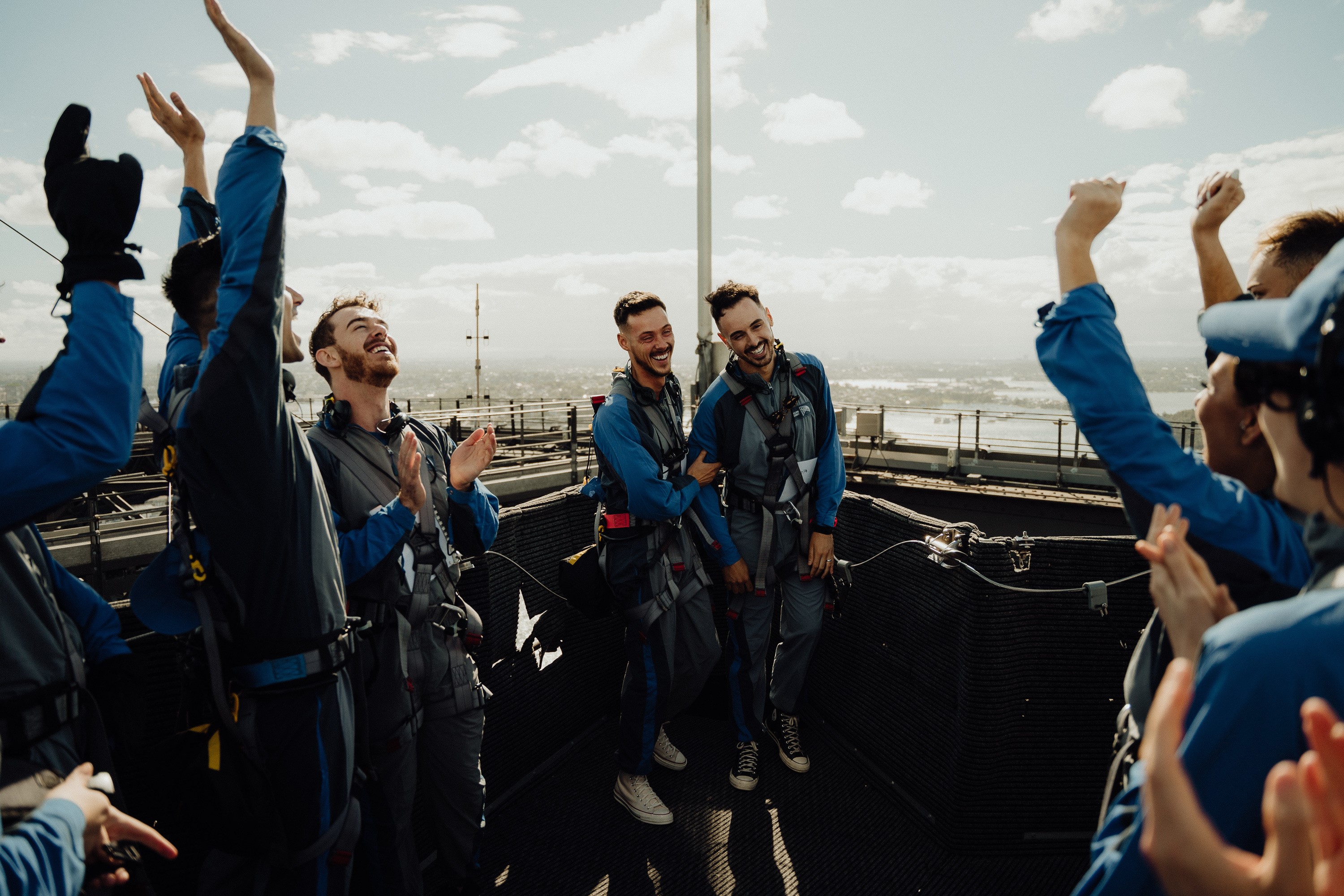 Say 'I do' 134 metres above the sparkling Sydney Harbour on Valentine's Day, or any day for that matter! The perfect way to show your commitment to one another, and an experience you'll never forget. We've had couples all over the world celebrate the most important day of their lives up at the Summit. Create your own stunning BridgeClimb wedding.
The secret to happiness? Buy experiences, not things.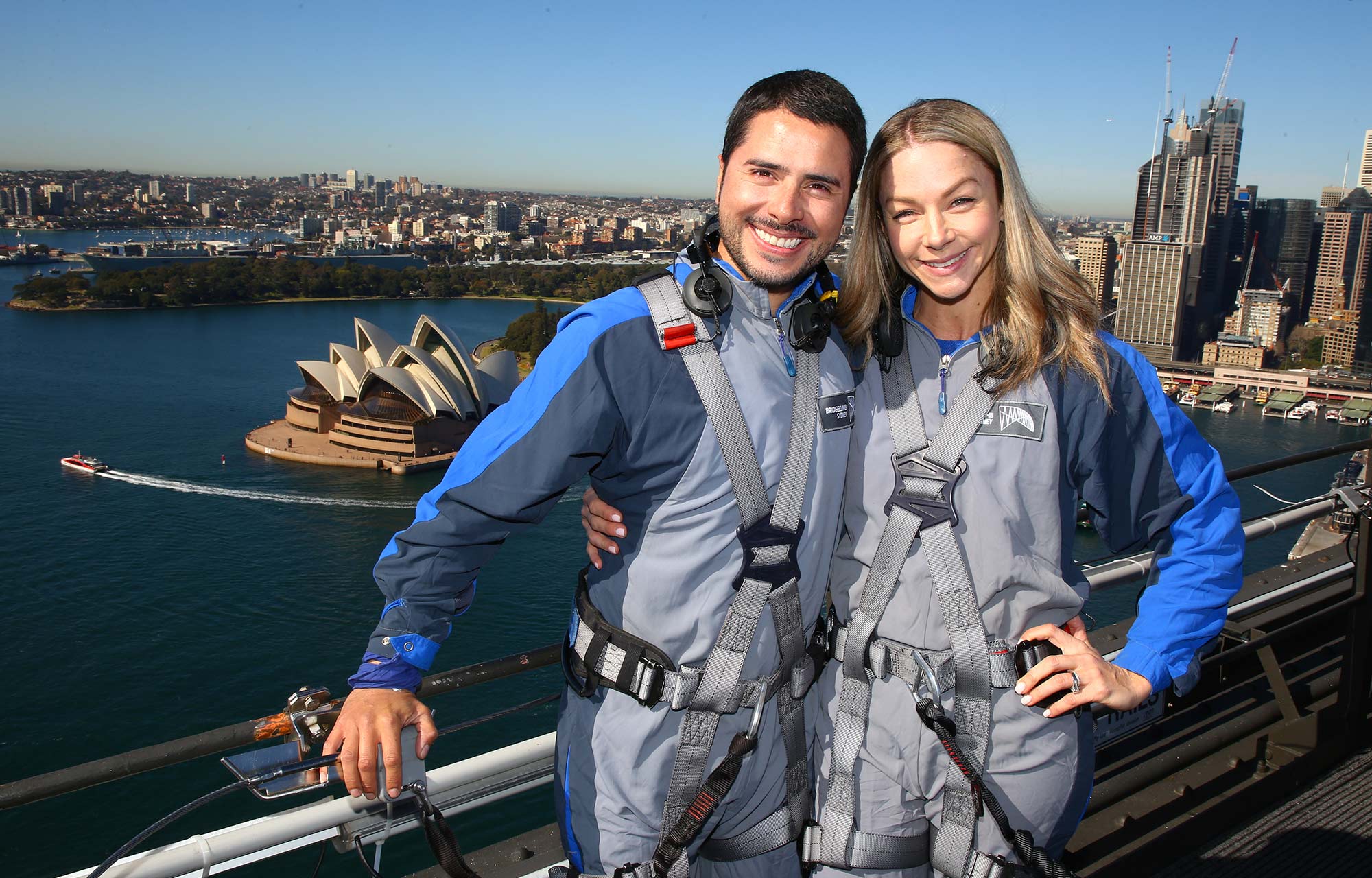 Research shows that giving someone an experience brings much more happiness than a material gift, and sharing those experiences together can help to strengthen the bond between one another.
So as far as Valentine gift ideas go, a BridgeClimb over the Sydney Harbour Bridge definitely ticks all the boxes. Soaking up 360 views of the city up at the Summit with your loved one by your side is a uniquely, romantic experience you'll both remember for years to come!
Happy Valentine's Day!