Sydney's most iconic conference and event venue
Want an unforgettable venue to hire for your next event? Book your next function at the iconic Sydney Harbour Bridge with climbs, function room and catering.
Planning a corporate event, work function or conference? Looking for a unique, one-of-a-kind event venue? Hold your event at the iconic Sydney Harbour Bridge, utilising BridgeClimb's private event spaces to welcome your guests beforehand and celebrate after your Climb together, all while learning about Sydney's rich history and the Harbour Bridge construction in our Visitor Centre and Bradfield's Room that includes complimentary audio visual equipment hire.
One-of-a-kind Sydney Event Venue Hire All Under One Roof (or in our case, Bridge!)
There's no doubt that researching, planning and delivering an unforgettable experience for your work team is a task that carries a lot of pressure. Not only does everyone who attends have to love it, but you'll also need to ensure the activity delivers against your business' employee goals and comes in on budget. We create exceptional experiences for corporate events, team days out and incentive employee rewards which are guaranteed to create an awesome team bonding experience.
BridgeClimb's private event spaces can be hired free-of-charge when you book a corporate or team Climb on the same day. You can delight your guests with the best views in Sydney, as you scale 134 metres above the Sydney Harbour on an internationally-renowned landmark, soaking up 360-degree views of the amazing city and beyond.
Love the space but not climbing? No worries!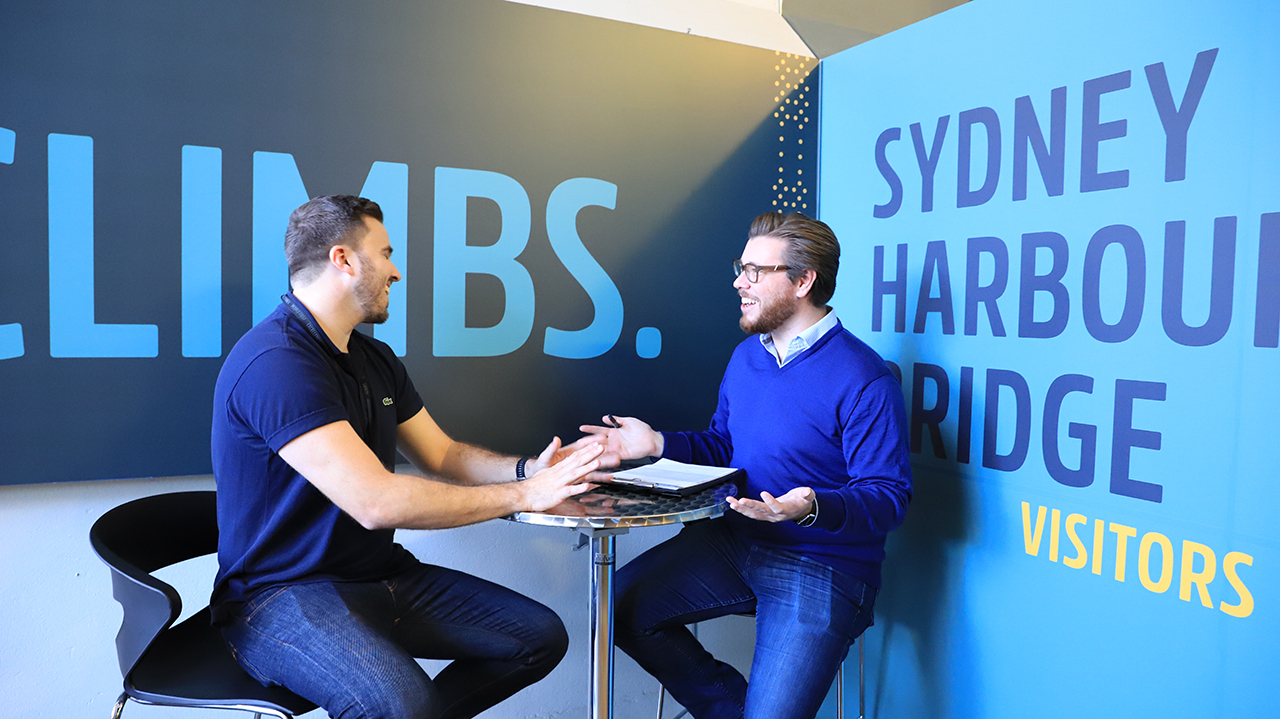 BridgeClimb is conveniently located in The Rocks near Circular Quay and private event spaces can be hired for a small fee for corporate groups and teams without a Climb booking. Our events team will ensure it's a top-level event that will WOW any important executives or clients. But can we convince you to climb too?

Here's 5 reasons why you should get your team together at the top of the Harbour Bridge.
No two events are the same and BridgeClimb has played host to many such as:
Leadership off-sites

Training courses

Seminars

Trade shows

Exhibitions


Networking events

Motivational speakers

Workshops


Client entertainment

Breakfast events


Board meetings

Product launches

Conferences

Award ceremonies

Video conferencing

Corporate parties (EOFY or Christmas)
What private spaces are available for event hire at BridgeClimb?
If you're racking your brains on where to find an event space that comes with all the bells and whistles and promises a truly unforgettable team experience for any size. Look no further than BridgeClimb's Visitor Centre or our Bradfield Room for your next corporate event and arrange a viewing with our Event team.
1. BridgeClimb Visitor Centre - A unique, spacious space for multiple room layouts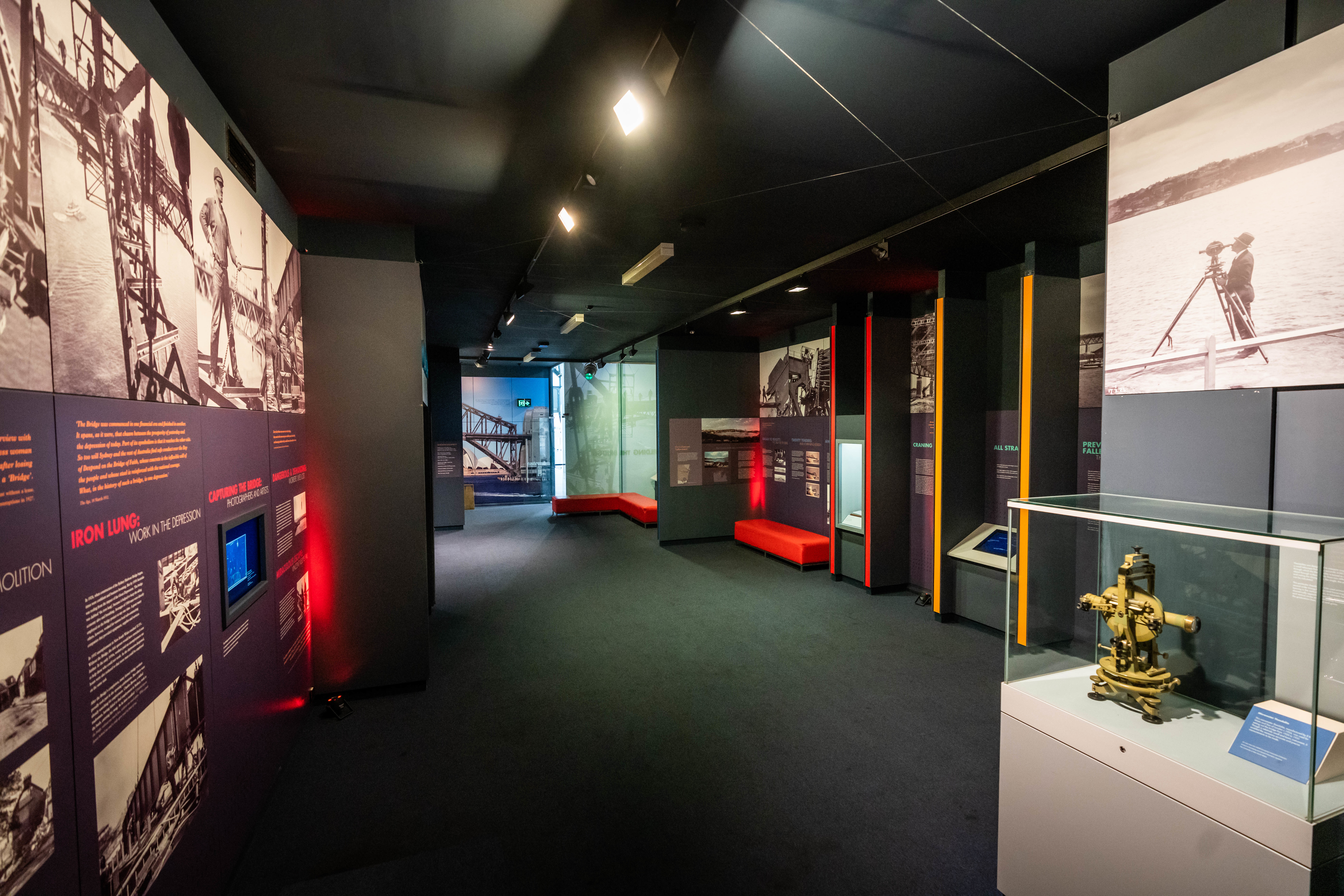 The BridgeClimb Visitor Centre is a mini-museum that pays homage to the great steel Bridge that connected the two sides of Sydney back in 1932. The venue's size and flexibility is perfect for corporate functions or events of any kind.




2. Bradfield Room - newly refreshed, private flexible dedicated event space with built in AV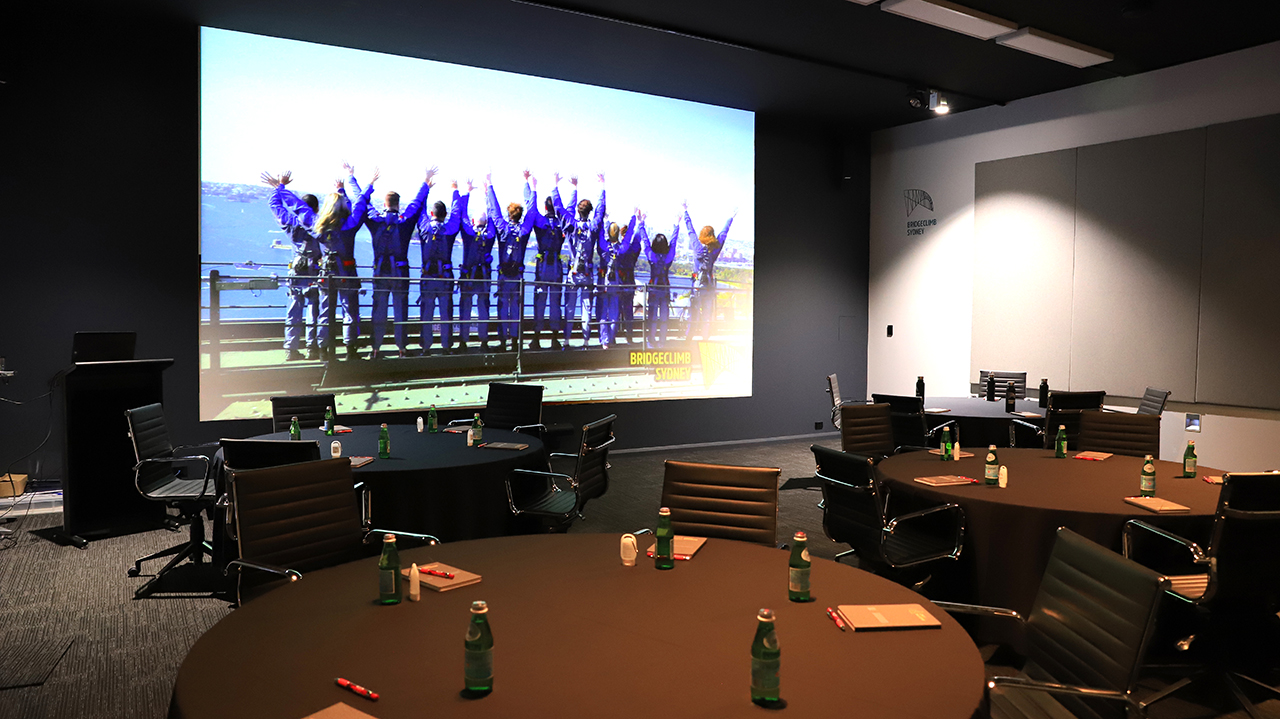 BridgeClimb's Bradfield Room, previously dedicated theatre space is perfect for corporate presentations, award ceremonies or launch events with a large cinema screen, lectern, and complimentary AV equipment all available for use without any fuss. Depending on your event's needs, flexible seating arrangements are available.
Plan your event with BridgeClimb and our dedicated Event Manager will take care of all the details for an unforgettable event all at a one-of-a-kind venue under one roof. Get in touch with our Event team and we can help with recommendations to suit your team's needs.
What's included in a team-building package at BridgeClimb?
VIP Check-in / Meet & Greet

Dedicated BridgeClimb Event Manager

Company branding on welcome screens, photos and certificates for a special one-of-a-kind event
Complimentary private venue hire for pre and post entertainment celebrations in a convenient location near Sydney Harbour with on-street parking and disabled access
Complimentary AV equipment hire with a projector, large cinema screen and lectern
Complimentary high-speed internet access
Choice of catering for all dietary requirements
Options to book any climb including Twilight
Please note: Event space is subject to availability at the time of booking.
If you choose BridgeClimb as a team-building activity, you're in for a top office day out! The beauty of choosing BridgeClimb's event hire space is that you can completely make it your own. Did we already mention pre and post entertainment venue hire is free-of-charge on the day of your group Climb? You're welcome!
Personalise your corporate live event with your branding
Whether the occasion is a corporate presentation or an awards ceremony, choose from various catering and styling options to further enhance your event experience at a unique venue. You can also personalise your event with our many branding opportunities, including the display of your company logo, presentation, and the groups' Climb photos on plasma screens for everyone to enjoy!
"What a great way to reward our staff for their amazing support and commitment during this pandemic! Thanks BridgeClimb for a fabulous day out – we all loved it and would happily recommend it to anyone looking for a fun team building activity". Melissa Wood, Mannion's Business Services
TAILORED DINING PARTNER PACKAGES FOR YOUR TEAM
BridgeClimb also offers tailored partner packages to elevate your team-bonding experience further. Read our article on Corporate Team Building Activities Sydney to learn more about partner dining packages including food and post-climb drinks nearby in The Rocks and Climb enhancements like indulging in gourmet canapés at the Summit, a musical performance or even a yoga wellness session 134 metres above the sparkling harbour.
If you've made it this far and still deciding the best way to celebrate the end of a successful year? It's a no brainer that a party will feel more rewarding after completing a once in a lifetime team experience like BridgeClimb. Forget traditional dinners, bowling or escaping from a room, do something extraordinary! Here's an idea, let us tell you 5 reasons why you should host your work Christmas party with BridgeClimb.
If you want to find out more about how we can tailor an experience for your next corporate or team event, please get in touch with us today.
DOWNLOAD OUR CORPORATE BROCHURE