Ferrython 2020: The Ferrython Climb
Where's the best viewing spot to catch all the Sydney Ferrython action, you ask? Well, it's up on the arches climbing with us this Sunday January 26th!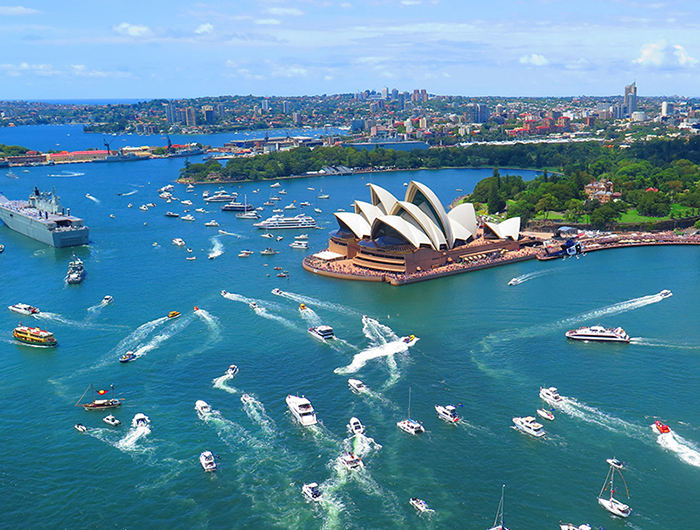 What is Ferrython?
The Ferrython is Sydney Harbour's popular boat show extravaganza. Ferrython is also Sydney's opening ceremony of January 26 celebrations where the First Fleet ferries race from Barangaroo Wharf to Shark Island, then cross back over to the finish line under the beloved Coathanger. The race has been an annual tradition dating back to 1978 apart of the Sydney Festival.
What you'll see:
The Ferrython Climb takes you to the ultimate vantage point on the Harbour to see the amazing Sydney Ferrython festivities. As you make your ascent to the top of the Bridge, you'll witness a birds' eye view of the ferries gliding on the water beneath you, against a stunning skyline that is Sydney's spectacular and surrounds.

Climbers on the Ferrython Climb have an extra 20 to 30 minutes to drink in the moment with family and friends at the Summit, 134 metres above the glistening Harbour. The total duration of the climb experience is up to 3 hours.

Here's what not to miss and tick off from the best seat in the house, up on the arches with us!
10.45am–11.30am

: Ready, set, go! Ferrython opens January 26 celebrations, one of the busiest days on Sydney Harbour.

11:30–12:05pm:

Salute to Australia ceremony with the Australian Army, Royal Australian Navy and Royal Australian Air Force.

12.05pm–12.15pm:

The Tug & Yacht Ballet, a company of yachts, tugboats, jet-skis and ferries gracefully dance in unison across the water.
What's next?
Don't stray too far from the Harbour after your unforgettable climb experience, as there is still Sydney Ferrython action you can catch from below. Make way to Circular Quay, Dawes Point or The Rocks to catch a glimpse of other highlights the day has in store.
12.45pm–2.00pm:

The Harbour Parade, a show of boats all shapes and sizes trotting out to take out best-dressed.

1.00pm–1.45pm:

Step back in time and watch the Tall Ships Race, a festival of historic vessels taking over the Harbour.

1:30pm–5:00pm:

The 184th Australia Day Regatta, commemorating the anniversary of the first European settlement of Australia.

6:30pm–9:30pm:

Finish off the evening at Australia Day Live 2020, a musical atmosphere at the steps of the Sydney Opera House.
YOU MAY ALSO BE INTERESTED IN