First double proposal atop the Sydney Harbour Bridge
This Valentine's Day, we celebrated love 134 metres in the air with a very special leap year proposal between Georgia Dawes to Rob Hodgson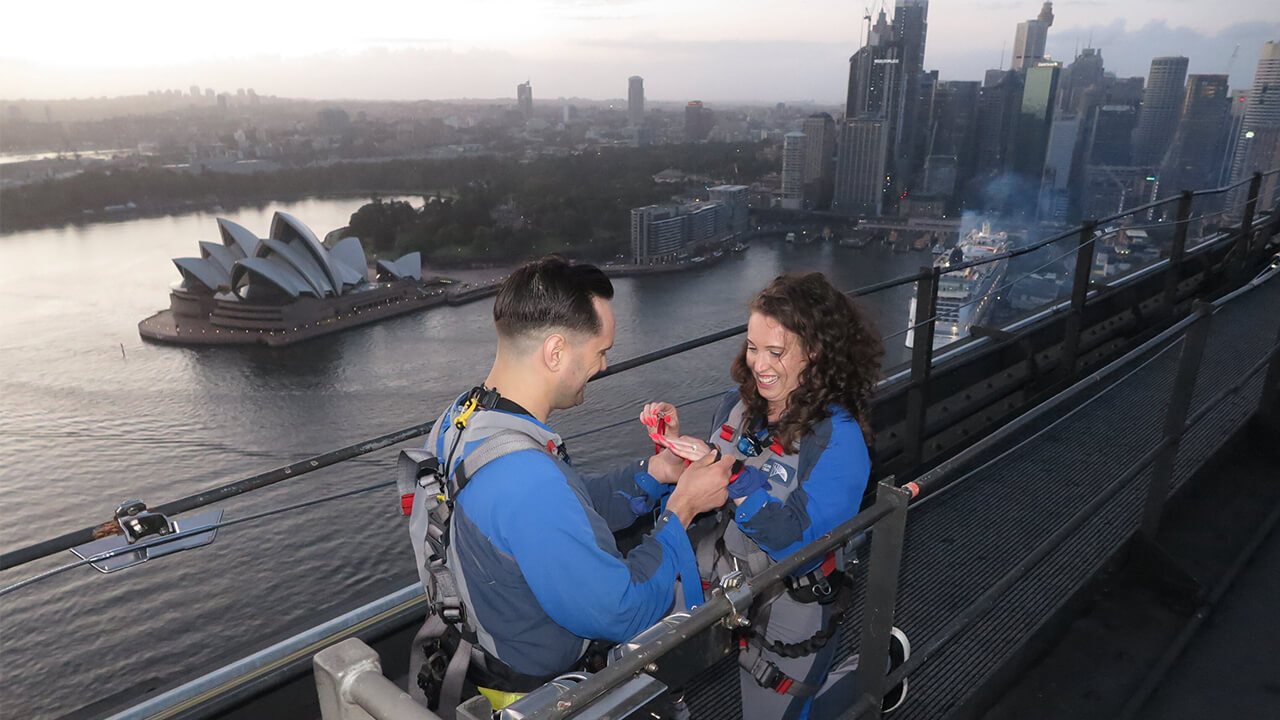 On Friday 14th February 2020, no stone was left unturned to ensure Georgia's proposal to Rob was truly unforgettable. After seven years of being together, Georgia decided that the current leap year was the time to plan the ultimate proposal to Rob. A romantic Valentine's Day Dawn Climb where they could watch the sunrise together, and the moment they reached the top, she'd get down on one knee to pop the question just as Irish folklore tradition allows.
The Irish folklore dictates that occurring leap years are a women's right to request a hand in marriage, which is evidently still in practice today. The lovebirds close family and friends were also secretly invited along to share the joyous occasion. They stayed hidden on top of the bridge and patiently waited for the imminent "YES!" before popping up as a surprise. However, little did Georgia know…her beau Rob had been organising a special surprise of his own and had also been planning to propose on the Climb too.
With the breaking dawn light illuminating over the Harbour, Georgia and Rob stood hand-in-hand admiring the view. They both leapt to announce the sky-high proposal, crouching at the knees, and turning the moment into a beautiful double proposal to each other.
Georgia and Rob always felt a connection to the Harbour Bridge and were fond of the idea of the top of the international icon, surrounded by unforgettable Sydney views, as the perfect spot to propose and declare their love to one another. "I would always joke that one day I'd propose to Rob before he would to me.""We both love doing adventurous activities that are out the ordinary, so I thought atop the Sydney Harbour Bridge was the perfect way to do it," said Georgia.
Over 21 years, BridgeClimb has assisted in more than 5,000 proposals and hosted 30 weddings atop the Harbour Bridge. If you're looking for the most unique and romantic platform to get down on one knee or tie the knot? You've come to the right place.
YOU MAY ALSO BE INTERESTED IN